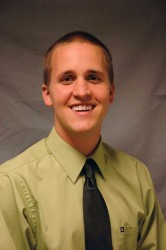 Dan Sadowski
Dan Sadowski, AS'08, former 2007-08 Drake University student body president, is using field research to examine access to health care for diabetes among Hispanic populations in rural Iowa.
Sadowski is conducting field research for a master's degree in international community health from the University of Oslo in Norway.
The project is based on statistics showing Hispanics are overrepresented among the uninsured for health care in the United States. In addition, Hispanics are 1.9 times more likely to have diabetes than non-Hispanic white age cohorts in the United States. The prevalence of diabetes also is higher among rural populations than in urban areas.
"As a disproportionate number of Latinos in rural communities lack health insurance or adequate access to health care, it is important to understand which elements of access to care influence the receipt of diabetes care," Sadowski said.
Sadowski narrowed his interest in public health research to diabetes care among Latino populations through his involvement with Latinos Unidos of Iowa, a community organization based in Des Moines. He was connected with the organization through Drake's Global Ambassador program.
Sadowski aims to interview 100 adult Latino participants who are diagnosed with Type II diabetes and reside in counties in rural Iowa. He has established contacts with several organizations in recruiting participants and draws on community venues including churches and community health clinics.
His research will draw participants from the following communities in Iowa:
Columbus Junction
Denison
Estherville
Fort Madison
Hampton
Marshalltown
Muscatine
Ottumwa
Postville
Storm Lake
West Liberty
He said he expects to encounter individuals with varying personal health situations, including everything from top-notch care for diabetes to limited contact with a health care professional.
Participants report elements of access to health care, including whether or not they have a regular provider and health insurance coverage, and their ease of communication with and transportation to health care providers.
Participants also provide detailed information about their diabetes care, specifically processes of care provided by health care professionals and personal health behavior, including self-management activities.
While Sadowski has only just started interviewing participants and will continue his research through December, he says the limited data has so far supported his expectations.
"I look forward to analyzing the complete data set next semester to get a better picture of the situation of the target population as a whole and to observe statistics and trends from the data," Sadowski said.
Sadowski intends to present his findings to students in Drake's College of Pharmacy and Health Sciences later in the fall semester.