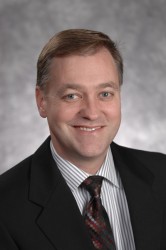 Tony Baldus
Tony Baldus, GR'98, recently received the Direct Marketer of the Year Award from the
Direct Marketing Association
's Insurance and Financial Services Council.
Baldus serves as senior vice president of marketing and analytics for
Marsh
U.S. Consumer, a Des Moines based company that was awarded the Company of the Year award by the Direct Marketing Association (DMA). This marks the first time one company has swept the DMA's top two honors.
Baldus and nine Marsh employees attended the awards dinner in San Diego, Calif., where the prizes were presented.
"It was a fantastic surprise and a great honor to win both awards," Baldus said. "This recognition is an affirmation of the hard work and dedication of our entire marketing team. It solidifies Marsh's position in the direct marketing industry."
"These opportunities only happen because of the tremendous support we get as marketers from our staff and management team."

Mark Poole, managing director and marketing leader at Marsh, said that the awards served as validation that "we're doing the right things for our clients."
"From an internal perspective, it's a real moral booster, and it's very encouraging for our department," he added.

Baldus credits his success and many opportunities to his Drake experience.
"At Drake, I was exposed to finance, marketing and accounting strategies, and I was able to develop valuable analytical experience," Baldus said.
Baldus has worked for Marsh for 12 years and has held various positions including director of marketing operations, customer focus team leader and director of consumer insight.
In addition to developing successful consumer-target contact strategies, Baldus has been recognized for his work in direct-response marketing. He is known for his work in implementing direct mail promotions, billing activities, profitability analysis and renewal modeling.
An Ankeny, Iowa, native, Baldus earned his bachelor's degree in economics from Iowa State University in 1995. He also holds insurance licenses in all 50 states for life, accident, health and personal lines insurance.