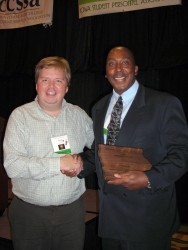 SPA President Travis Greene, dean of students at Grinnell College, presents the Outstanding Service Award to Sentwali Bakari
Sentwali Bakari, dean of students at Drake University, recently won the Iowa Student Personnel Association's Outstanding Service Award.
Bakari received the award at the ISPA conference in Cedar Rapids, Iowa, on Oct. 14.
In announcing the award, ISPA Past President Lynn Evans said, "You have truly demonstrated through ISPA and other activities your great leadership and commitment in furthering the goals and objectives of the organization and of student affairs across the state of Iowa."
A member of the ISPA executive board, Bakari has been an active member in the association for six years and also served as president.