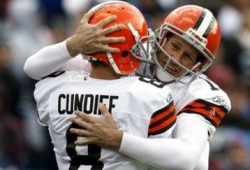 A teammate gives Billy Cundiff a congratulatory hug.
ORCHARD PARK, N.Y. — Former Drake All-American kicker Billy Cundiff kicked a game-winning, 18-yard field goal with 26 seconds remaining to give the Cleveland Browns their first win of the season with a 6-3 victory at Buffalo Sunday.
Earlier, Cundiff had made a 24-yard field goal in the second quarter that gave the Browns a 3-0 lead.
Cundiff is five-for-five in field goals during his three weeks with the Cleveland Browns.
He made a 29-yard field goal in his debut for Cleveland in a Sept. 27 game at the Baltimore Ravens and connected from 28 and 31 yards against Cincinnati Oct. 4.
Cundiff signed a free agent contract with Cleveland Sept. 26 following the announcement that the Browns starting kicker, Phil Dawson, was out with a strained calf injury.
Earlier, Cundiff kicked two field goals in two exhibition games with the Detroit Lions this season.



Cundiff has been a kicker in the National Football League for six years, including stints with Atlanta, Dallas, Green Bay, Kansas City, New Orleans and Tampa Bay.
The Harlan, Iowa, native signed as a free agent with Dallas in 2002 and tied a NFL record by making seven field goals in a 2003 Monday Night Football game at the New York Giants, including a 52-yarder on the final play of regulation to send the game into overtime, followed by a 25-yard kick that gave the Cowboys a 35-32 victory.
Cundiff set a Dallas Cowboys record for the longest field goal — at 56 yards — ironically, in a 2005 game against Detroit.
Cundiff closed out his career at Drake in 2001 owning 15 school and five Pioneer Football League records, including Drake career marks for points (284), field goals (49-of-79) and PATs (137-of-151).
He also ranks 14th in the NCAA Football Championship Subdivision career field goal list, connecting on 49.
Cundiff made eight field goals over 50 yards during his career at Drake, including a Pioneer Football League record 62-yard field goal as a junior in 2000 against San Diego.