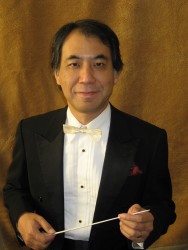 Akira Mori, assistant professor of music and conductor of the Drake Symphony Orchestra
MEDIA CONTACT: Tory Olson, 515-271-1834, tory.olson@drake.edu
The Drake Symphony Orchestra's first concert of the fall semester will feature music by Dvorak and Beethoven on Wednesday, Oct. 28.
Free and open to the public, the concert will start at 7:30 p.m. in Sheslow Auditorium in Old Main, 2507 University Ave.
The program will begin with Dvorak's "The Noon Witch, Opus 108" — one of five symphonic poems the composer wrote late in his career.
Based on a poem by Czech poet Karol Jaromír Erben, "The Noon Witch" was sketched by Dvorak in three days and orchestrated in just two weeks. Like a symphony, the piece contains four sections. Unlike most symphonies, however, the four sections are played without breaks.
"Many people are not familiar with Dvorak's symphonic poems, but three of the five are truly masterpieces," said Akira Mori, assistant professor of music and conductor of the Drake Symphony Orchestra.
Beethoven's "Symphony No. 6 in F Major, Opus 68" will also be played at the concert. Better known as the "Pastoral Symphony," the piece was completed in 1808 and is one of Beethoven's few works of program music that reflects his love of nature.
This symphony depicts various sounds of nature and country life, including a babbling brook, bird calls, dancing peasants and a thunderstorm.
Mori has also conducted the Tokyo Symphony, Tokyo Chamber Orchestra, Kiev National Orchestra and Minnesota Orchestra. He is active in teaching and has been a professor and conductor at Indiana University, the University of Minnesota and Louisiana State University.