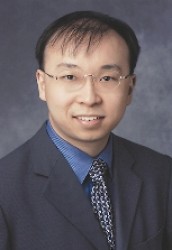 Peter K. Yu directs Drake's IP Law Center.
The Intellectual Property Law Center at Drake University will hold a conference Oct. 16-17 on "Intellectual Property Developments in China: Global Challenge, Local Voices."
The event will be held at the Law School's Neal and Bea Smith Law Center Courtroom, 2400 University Ave.
"Although China has been repeatedly criticized for its piracy and counterfeiting problems, few scholars, commentators and policy makers have studied the country's recent intellectual property developments on their own terms," said Peter K. Yu, the Kern family chair in intellectual property law and founding director of the Drake Intellectual Property Law Center.
"This unique conference fills the niche by bringing together both 'local voices' from China and Western scholars who have taught, lectured or conducted research in the country," Yu added.
"The event will be followed up by a published edited volume documenting the country's many impressive reforms in the IP area as well as its upcoming challenges."
Held shortly after the 60th anniversary of the founding of the People's Republic of China, this timely conference was specially designed to promote academic exchange between intellectual property scholars in China and other parts of the world.
The event features scholars from different parts of China, including Beijing, Chongqing, Hong Kong, Nanjing, Shanghai and Xi'an, as well as experts from Australia, Canada, the United Kingdom and the United States.
Dr. Gao Lulin, the founding commissioner of the Chinese State Intellectual Property Office, will serve as the conference's keynote speaker. He will discuss the recent amendments to the Chinese patent law.
In addition, Ralph Oman, the former register of copyrights of the United States, will be featured on a panel and share his views along with two Drake law alumni:
Daniel Cosgrove, of Pioneer Hi-Bred International Inc., a 1992 graduate
Kent Stevens of Cadwalader, Wickersham & Taft LLP, a 1984 graduate
A repeat visitor to Drake, Oman will also discuss the intellectual property lawmaking process with international experts and Drake students and faculty at 4 p.m. Thursday, Oct. 15. His presentation is titled "Congress and Copyright: How Bills Get Passed." The panel will be held at the Law School in Room 213.
Drake's IP Law Center, which has recently been ranked by the U.S. News and World Reports among the top 25 intellectual property law programs in the United States, has a distinguished record of promoting intellectual property developments in China.
The center's director is a preeminent expert in intellectual property law and policy in China. He holds the prestigious Wenlan Scholar Chair Professorship at Zhongnan University of Economics and Law in Wuhan and serves as a visiting professor at the University of Hong Kong Faculty of Law in the summer.
Since its establishment in fall 2007, the center has held major conferences in Hong Kong and Guangzhou. It has also supported lectures in Beijing, Guangzhou, Hangzhou, Hong Kong, Macau, Shanghai, Wuhan and Xi'an.
In addition, the center has hosted visiting scholars from:
China University of Geosciences in Wuhan
Hebei Academy of Agricultural and Forestry Science in Shijiazhuang
Southwest University of Political Science and Law in Chongqing
Zhejiang Gong Shang University School of Law in Hangzhou
The conference program and a list of participants are available
online
.