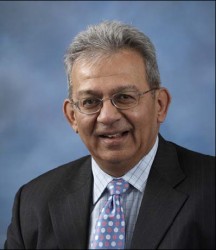 Suku Radia
Suku Radia, CEO and president of Bankers Trust, will speak at a lecture sponsored by Drake University and the Iowa chapter of Financial Executives International at 7 p.m. Thursday, Oct. 29.
The 23rd annual Drake – FEI Lecture, which is free and open to the public, will explore "Banking: An Industry in Crisis." It will be held in Sheslow Auditorium in Old Main, 2507 University Ave.
Born in Kampala, Uganda, Radia is a graduate of Iowa State University, from which he received the Distinguished Alumni Award in 1995. In 2006, he was named "Mr. Habitat for Humanity." He currently serves as campaign chair for United Way of Central Iowa.
Radia is also a member of the Drake Board of Trustees and serves on the Board of Directors for the Mercy Medical Center in Des Moines.
In recognition of his dedication to non-profit programs, Radia will receive the Spirit of Philanthropy Award from the Association of Fundraising Professionals in November.
The Drake – FEI Lecture is an annual event co-hosted by the Iowa Chapter of the Financial Executives International and Drake's School of Accounting, which is part of the College of Business and Public Administration.
FEI is a professional association of more than 15,000 senior financial executives from 91 chapters and some 8,000 major companies throughout the United States and Canada. It is the leading advocate for corporate financial management.
The Iowa Chapter of FEI has nearly 100 active members representing 66 major companies in Iowa. Membership is open to those executives of major companies who are responsible for financial management activities.
For more information about the Drake – FEI Lecture, call 515-271-2156.