Dr. Maya Angelou holds the crowd in the palm of her hand.
Dr. Maya Angelou introduced her Uncle Willy to a diverse and enthusiastic crowd Tuesday night at Drake University's Knapp Center.
The legendary writer, educator and performer delivered Drake University's 24th Martin Bucksbaum Distinguished Lecture. After her talk, President David Maxwell declared Angelou's appearance as one of the "defining moments of this university."
Due to knee problems, Angelou, elegant in a black dress and striking gold necklace, spoke while seated. But she owned the room and held the audience of nearly 8,000 in rapt attention with stories from her remarkable life, poetry and even a bit of singing. Frequently interrupted by applause and laughter, her talk was by turns inspiring, moving and humorous.
Angelou's Uncle Willy died several years ago, but this rural Arkansas man who suffered from a neurological disorder that affected his speech and left him partially paralyzed, lives on as a towering figure in his niece's stories. He is one of Angelou's "rainbows in the clouds." By the end of her talk, Uncle Willy had likely attained the same status with audience members.
"Rainbows in the clouds" is a concept found in the Book of Genesis and it inspired a slave song that used the phrase to mean "that in the worst of times there's the possibility of seeing hope," explained Angelou.
"I know Drake is a rainbow in the clouds," said Angelou, a woman who truly represents the opportunities provided by a liberal education. "I know there are people who have entered this institution of higher education who represent families that have never gone to a high school — people who will leave this place with an assurance of a formal education and who represent for the first time to their families that they can do this."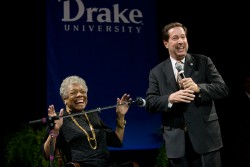 Dr. Angelou shares the spotlight with Drake President David Maxwell.
A challenging childhood
Angelou was born in Los Angeles, but after her parents' divorce, she
and her brother, Bailey, were sent to live with her father's people in
Stamps, Ark., a "village smaller than this stadium," Angelou said.Her grandmother ran the only black-owned store in town. Uncle
Willy, who worked in the store, taught Angelou her multiplication
tables while she stood next to a hot stove. When Willy died, Angelou
returned to Arkansas for the funeral, stopping first in Little Rock,
where she was introduced to a man who had known her uncle. The man was
the only child of a blind mother. Willy had given him a job and taught
him his multiplication tables. He grew up to be the first black mayor
of Little Rock.
"The state of Arkansas has lost a great man," the mayor told Angelou.
The mayor arranged for Angelou to be escorted to Stamps. There she
was greeted by a group of white law enforcement officers. It
immediately brought back childhood memories of those terrifying nights
when "the boys would ride." The "boys" were armed white men. But now,
the white men with the holstered guns were Angelou's hosts.
"Dead and still being a rainbow in my clouds . . . Who can say how
wide, how deep, how high, the breadth, in fact, of his rainbow?" said
Angelou of her Uncle Willy's lasting impact.
Move to silence
Angelou told a painful story about moving to St. Louis, Mo., when
she was 7 years old to be with her mother's family. Her mother's
boyfriend sexually assaulted her. She reported the assault, and the man
was arrested but released after one day and one night in jail. Three
days later Angelou's assailant was found dead, likely kicked to death.
The trauma for Angelou was so intense that she stopped speaking,
becoming a voluntary mute for six years."I thought my voice had killed a man and if I spoke my voice might just kill anybody, so it was better not to speak," she said.
She was sent back to Stamps to live with her grandmother, another
of her rainbows. Angelou talked about how her grandmother would braid
her hair and tell her, "Sister, mama don't care . . . You gonna be a
teacher. You gonna teach all over the world."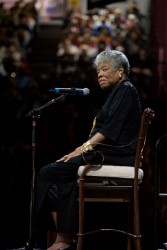 Dr. Angelou had the podium moved so she could see the entire audience.
Multi-lingual message of hope
Her grandmother was right, of course. Angelou has lectured all over
the world. She wrote the critically lauded memoir, "I Know Why the
Caged Bird Sings," as well as other books, volumes of poetry,
screenplays and music. She is fluent in five languages, including
French, Spanish and Arabic.
She has won three Grammys and has been nominated for the Pulitzer
Prize, the National Book Award and the Tony Award. Currently the
Reynolds professor of American studies at Wake Forest University,
Angelou holds more than 60 honorary degrees.
She delivered the inaugural poem at President Bill Clinton's first
swearing in ceremony, becoming only the second poet to read at an
inauguration. She also was asked to read a poem to commemorate the 50th
anniversary of the United Nations.
When the U.N. was founded in 1945, Angelou was a pregnant and
unmarried 16-year-old high school student who had regained her speech
just a few years earlier.
"I couldn't have done with it without the rainbows in my clouds," she said.
Angelou reminded the audience that they can be rainbows in other's
clouds, and they have rainbows in their lives and might not even know
it. Her rainbows have included people of all races and abilities, "some
people who I didn't even know, just people who said 'You can do it.'"Each of us has the possibility of being a rainbow in somebody's
cloud," she added. "Somebody who doesn't look like us. Might even call
God a different name if they call God at all. Eat the same food, but
prepare it differently. May have three degrees in Russian," said
Angelou, throwing in a friendly jibe at President Maxwell.
Angelou also displayed her mischievous side. She told a story about
being admonished by a waitress at a vegetarian restaurant when she
pulled out a pack of cigarettes. (Angelou noted that she has been
nicotine-free for 20 years and urged smokers in the audience to give up
the habit.)That incident inspired her poem,
"Health Food Diner,"
which
includes the stanza:
"Health-food folks around the world
Are thinned by anxious zeal,
They look for help in seafood kelp
(I count on breaded veal)."

A panoramic view of the Knapp Center, where the crowd was unusually quiet.
Angelou's lecture drew the largest crowd in the history of the Bucksbaum Lecture Series, which was established in 1996 with a
gift from Melva and the late Martin Bucksbaum, a longtime member of
Drake's governing board and a leader in the Des Moines community.
Nearly 8,000 people, including students from area high schools as
well as Cornell College, Iowa State, the University of Iowa and the
University of South Dakota School of Law, packed the Knapp Center.
Another 150, who were unable to get seats in the Knapp Center, watched
the lecture live on a big screen in Sheslow Auditorium.
Prior to the lecture, Angelou met with a group of 25 students
majoring in English or writing. President Maxwell described the
experience as "breathtaking."
"For those young people, this evening defined their Drake
experience," Maxwell said. "As they look back at their four years at
Drake, this is what they will remember."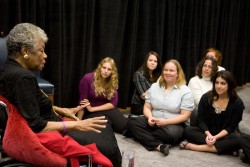 Dr. Angelou chats with Drake students majoring in English or writing.
Encouraging words for students
Drake junior Brittney Miller, who was among the students who met with Angelou, said the group hung on her every word.
"Being able to be a part of a small group discussion with Dr. Maya
Angelou was an honor and a once-in-a-lifetime-opportunity. Her humor
and genuine warmth immediately put me at ease," said Miller, a resident
of Duluth, Minn.
"She spoke to us about the importance of connecting with others,
not letting people hold you back or 'narrow' your path, and most of
all, challenging all of us to 'be of use.'"
Miller, who is majoring in English and political science, added
that the closing comment Angelou made in her public lecture is the one
that will stay with her:"Do not be timid. Be who you really are. Each of us has the
possibility to be a rainbow in someone else's cloud. That's who we are,
that is what we are. You see?"