Yellow cornflower
Drake University professor Tom Rosburg has been praised for his photographs of grassland wildflowers included in the second edition of "Wildflowers of the Tallgrass Prairie," a field companion for exploring grassland plants.
The book, which was originally published in 1989 by the University of Iowa Press, introduced many naturalists to the beauty and diversity of the native plants of the grasslands.
The second edition has been redesigned with new photographs by Rosburg, associate professor and chair of biology and director of environmental science and policy. A full-page color photograph by Rosburg accompanies each species account in the book, which also includes new formatting and updated names. He also provided botanical guidance for revising the scientific names.
"The excellent new photographs by Tom Rosburg complement text that provides useful descriptions, habitat information, and flowering times," said Daryl Smith, director of the Tallgrass Prairie Center at the University of Northern Iowa.
"My goal in these images is to produce an aesthetic plant portrait, like a human portrait, that best shows the features of the plant that help identify it," Rosburg said.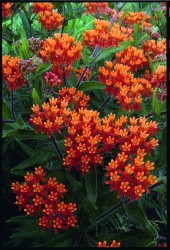 Butterfly milkweed
The photos were taken all across Iowa, and some from as far as western
Nebraska, while others were from local areas. Wild licorice was taken
from a railroad remnant in Polk County, and purple meadow rue and
rattlebox were from prairie remnants at Camp Dodge in Johnston, Iowa.
Rosburg also offered some tips for prairie plant photographers. In his
experience, the two most difficult challenges for photographing these
plants are too much sun and too much wind.
To work around these issues, Rosburg often photographs the plants early
in the mornings, using a tripod and either a 105 macro lens or a 17-35
wide angle lens. He also uses light controlling devices such as
diffusion tents, umbrellas and light reflectors.
To purchase a copy of "Wildflowers of the Tallgrass Prairie," contact
the University of Iowa Press at 800-621-2736 or order online at
www.uiowapress.org.
For more information, contact Allison Thomas Means at 319-335-2015 or allison-means@uiowa.edu.