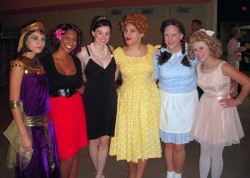 Drake students costumed as classic film icons.
Drake University students dolled up as classic film stars for the chance to practice their stage makeup skills while benefiting senior citizens at a Polk County volunteer recognition banquet.
Seven students enrolled in a stage makeup course with Josie Poppen, Drake instructor of theatre arts, volunteered to be celebrity look-a-likes for the event, "A Night at the Movies." The banquet was held last month at HyVee Hall in downtown Des Moines to recognize volunteers for Polk County Senior Services.
Drake's department of theatre arts provided the costumes and student participants received extra credit in the course.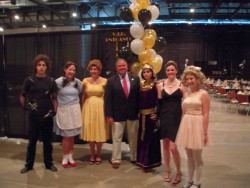 Drake students enjoy "A Night at the Movies."
The students that participated and the celebrities they portrayed were:
Sam Button-Harrison

, a senior musical theater major of
Conrad, Iowa, as Johnny Depp playing the title role in "Edward
Scissorhands"

Stephanie Brandstatt

, a senior elementary
education major of Carol Stream, Ill, as Judy Garland playing Dorothy
in "The Wizard of Oz"

Heather Bruce

, a junior international
business and marketing double major of Perry, Iowa, as Audrey Hepburn
playing Holly Golighty in "Breakfast at Tiffany's"

Katie Engelen

, a sophomore theatre design major of Saint Louis Park, Minn., as Shirley Temple
Christina
Cherayil, a student in the first year of the professional pharmacy
program of Andover, Minn., as Dorothy Dandridge playing the title role
in "Carmen Jones"

Katie Bagriy

, a sophomore actuarial
science and accounting double major of Niles, Ill, as Elizabeth Taylor
playing the title role in "Cleopatra"

Rebecca Scott

, a sophomore accounting major of Millville, N.J., as Lucille Ball