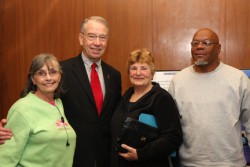 Sen. Grassley, center, gathers with Adult Literacy Center students Norma Kenoyer, left, Kay Runner, right, and Gerald Galbreath, far right.
U.S. Sen. Chuck Grassley, R-Iowa, met with students in the
Adult Literacy Center
at Drake University on Monday.
He visited the center to learn more about its program, new technology initiative and adult literacy issues at the invitation of Steven Pritchard, a student at the center and Anne Murr, coordinator of the center.
Three students in the program shared their experiences with Grassley:
Norma Kenoyer of Madrid, Iowa
Gerald Galbreath of Des Moines
Kay Runner of Des Moines
"Not being able to read is really, really hard," Galbreath said. "It keeps you from getting a good job and tears down your self-esteem."
"It's very terrifying if you can't read, especially if you have to go to the doctor," Kenoyer said.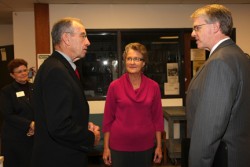 Sen. Grassley visits with Associate Dean Eunice Meredith, left, center coordinator Anne Murr, middle, and Drake Provost Michael J. Renner, right.
Grassley thanked the students for sharing their stories. "I've met people in the same situation as these students, but they've all been very smart and resourceful," he said.