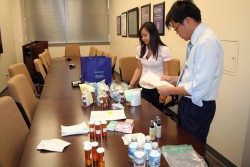 Pharmacy students Todd Pham and Liz Tran help put together flu kits during an interview with WOI-TV about Drake's response to H1N1.
Drake pharmacy students are helping lead the effort on and off campus to prepare for flu season, including the outbreak of H1N1, by distributing immunizations in a handful of pharmacy settings.
On campus, pharmacy students are on call to help put together flu kits that are distributed to students who report symptoms of H1N1 and possible administer immunizations if necessary.
The kits contain tissues, water, hand sanitizer, ibuprofen, disposable thermometers and recommended directions and procedures for hygiene. Read more about Drake's response to H1N1 and flu season
online
.
Meanwhile off campus, Amy Kuehl, a student in her third year of the Professional Pharmacy Program, is organizing flu immunizations in community pharmacy settings as part of the Drake student organization Operation Immunization. The initiative pairs students with pharmacists at a variety of pharmacies.
"It's important to get the flu shot because many people don't realize the extent of the flu, how long it can last and how sick you can become," said Kuehl of Cedar Rapids, Iowa.
"The illness reduces productivity in the workforce and can cause complications for people with certain diseases, such as diabetes."
Kuehl serves as chairperson for the group, which is a project of the American Pharmacists Association's Academy of Student Pharmacists and Drake's experiential pharmacy program.
Students can administer immunizations as long as they have completed an immunization course, are certified in CPR and are supervised by an immunizing pharmacist.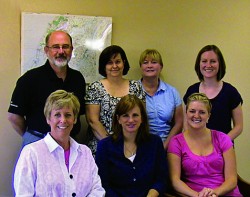 Drake student Katie McDonald, top right, helped the Medicap Pharmacy GRX team pictured develop a program that brings pharmacists to businesses to give flu immunizations.
Jennifer Hidding and Katie McDonald, both in their third year of the professional pharmacy program, have been working with retail pharmacies to set up flu immunization clinics.

Both students gained internships through the Drake Entrepreneurial Leadership Tools for Advancement (DELTA) Rx Institute. DELTA Rx seeks to help students become entrepreneurial leaders who work to advance the profession of pharmacy by proactively identifying and pursuing new opportunities of value for patients and society.
Hidding of Victoria, Minn., interned with Snyders Drug Stores, an independent retail pharmacy chain in the Twin Cities area. While working in the corporate office this summer, Hidding created a program for Snyders' pharmacy locations to offer flu immunizations.
"Many people in Minnesota aren't aware that you can get a flu immunization at a pharmacy," Hidding said.
"The program I wrote explained the regulations for pharmacists providing flu shots in Minnesota and provided information on how pharmacy locations could market this service."
McDonald, another intern placed through DELTA Rx, has been working with Medicap Pharmacy GRX in Des Moines, coordinating a program that brings pharmacists to businesses to give flu immunizations.
A native of Littleton, Colo., McDonald also created different immunization clinic packages and pricing for each service.
"DELTA Rx promotes the field of pharmacy, expanding beyond just dispensing drugs to additional patient care services," McDonald said.
"This internship was one of the best experiences I've had in the pharmacy program and has exposed me to entrepreneurial skills that will prepare me for the new world of pharmacy that is emerging."