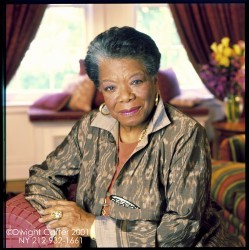 Maya Angelou
Dr. Maya Angelou, an award-winning writer, poet, journalist
and activist hailed by many as one of great voices of contemporary literature,
will present Drake University's next Martin Bucksbaum Distinguished Lecture at
7 p.m. Thursday, Oct. 8.
The lecture, which is free and open to the public, will
start at 7 p.m. in the Drake Knapp Center, 2525 Forest Ave.
A shuttle service will be available before the lecture from
5:15 p.m. to 6:45 p.m. and after the lecture until 9:15 p.m. Shuttle rides cost
$1 per person each way from the parking lots of the Callanan, Smouse and Van
Meter schools on Center Street (just off of I-235, Exit 6).
She was among the first African-American women to hit the
bestsellers lists with "I Know Why the Caged Bird Sings," a chronicle
of her life up to age 16, which was published in 1970 to great critical and
commercial success, bringing her international recognition and a nomination for
a National Book Award.
Read more about Angelou online.