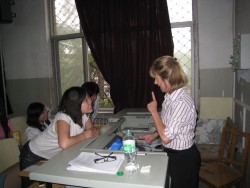 Kathy Fejes interacts with students at a middle school.
Education professor Kathy Fejes recently traveled across the globe to China and Spain to share her research on integrating art into special education classrooms.
Just after classes ended last spring, Fejes packed her bags for a two-week stay in Shijiazhuang, China, where she visited Hebei Normal University.
The trip was part of Drake's Chinese Cultural Exchange Program, which sponsored travel for 9 Drake faculty members visiting various universities across China.
"Hebei Normal is the main education university in China, and because of my expertise, they had me present to both the education and psychology schools," Fejes said.
Fejes knew ahead of her travels that she would encounter a variety of approaches to special education outside of those used in the United States, but she was surprised by the extreme differences.
"The expectations for school and work are very different," Fejes said. "In China, a typical classroom might have 60 or 70 children, verses a U.S. classroom with 25 students."
"They don't teach for special education. There are special schools for extreme disabilities but all other students are in the regular classroom," she added.
Aside from Hebei Normal University, Fejes visited a school for deaf children.
"They had incredibly good in-house vocational programs at the school and some of the students are able to go onto college and become very successful," Fejes said.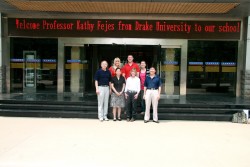 Kathy Fejes gathers with Drake alumni.
Fejes also met with three recent education graduates who are teaching in China as part of the Chinese Cultural Exchange Program. William Cashmore, ED'08, Alissa Trowbridge and Kara Engebrecht, ED'08, were concluding their one-year assignments as English teachers at No. 42 Middle School in Shijiazhuang, China.
On the second leg of her journey, Fejes traveled to Alicante, Spain, for the International Association of Special Education Conference, where she presented an overview of her documentary project at the Iowa Juvenile Home.
The film focuses on a traveling exhibit of artwork and essays created by students at the Juvenile Home in Toledo, Iowa. The facility is the state training school for delinquent girls and also serves some boys and girls who are victims of abuse and neglect. The art pieces were created as part of the school's therapeutic art program for the children.
The conference drew approximately 500 people from around the world who work in special-education related fields.
"It was good to hear about different work going on all around the world and I was able to meet some wonderful people," Fejes said. "In fact, we are all still in touch and we have open invitations to visit each other's home universities!"