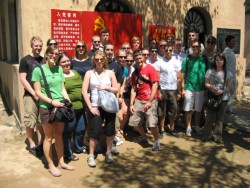 Program participants on the road to Xibaipo, Hebei Province.
Responsible global citizenship is one of Drake University's goals for students, and over the next year, 25 college graduates are realizing that mission as they teach English in China.
For the first time, all graduates in the Drake Teach in China program are spending the full 2009-10 academic year teaching English in Chinese secondary schools and universities. Previously, only some of the participants were able to spend the entire year in China.
Twenty-four of this year's participants are from Drake and one is a graduate of the University of Iowa.
To prepare the graduates, Drake conducts two weeks of intensive training during the summer. The first week of training provides instruction on techniques in teaching English as a second language and creating lesson plans.
A week of orientation training also was conducted in China for the first time at the Hebei Normal University in Shijiazhuang, 200 miles southwest of Beijing.
"Having a week of training in China is an improvement to the program because we're able to work through the participants initial reactions as a group," said Kirk Martin, director of Drake's Chinese Cultural Exchange Program. "The participants are quickly integrated into Chinese culture through activities such as staying with a host family for two nights."
This training introduces the graduates to Chinese culture, including Chinese food, the basics of Chinese language and making sure they are able to find their way around by using buses and trains.
Whitney Denning, JO'09, says the training in China helped her prepare for the year ahead.
"Having language and cultural training in China was beneficial because I would not have understood the context of some of the things we discussed had I not been in China," said Denning of Houghton, Iowa.
"The native speaker who taught us Chinese gave us lessons we could put to use that day, which was valuable. It also gave us a taste of what we'd be doing for our students," Denning said.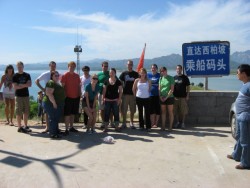 Graduates gather for a photo during their trip.
Students are both teachers and learners
Drake graduates are teaching in eight schools in the following five Chinese cities:
Shijiazhuang, Hebei Province (9)
Chengde, Hebei Province (4)
Handan, Hebei Province (4)
Chongqing Municipality (1)
Guilin, Guangxi Autonomous Region (7)
Paul Rothman, AS'09, of St. Paul, Minn. returned to China after spending a semester of his junior year studying in Hangzhou.
"I had a great experience living in China as a junior, so I decided to come back for a year," Rothman said. "I'm teaching in Chongqing, which is in western China. Chongqing is different from Hangzhou in terms of the environment, dialect, culture and food."
Ry Avery of Milwaukee, Wis., BN'09, wanted to teach in China for many reasons.
"I wanted to go on an adventure and do something that most people won't get the chance to do in their lives," Avery said. "I wanted to encourage cross-cultural learning while experiencing personal and professional growth."
Maggie Abney, AS'09 of Eldridge, Iowa, has been impressed by the work ethic of her Chinese students.
"My students are incredibly dedicated," Abney said. "They're in class by 7:30 a.m. and stay until 8 p.m. in the evening."