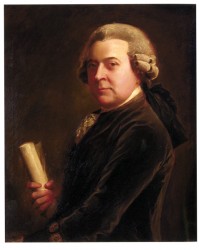 John Adams
"John Adams Unbound," a traveling exhibition that explores the personal library of one of the nation's founding fathers, opens at Drake on Wednesday, Oct. 28.
The exhibit and related series events, which are free and open to the public, will be held in the Cowles Library Reading Room.
This exhibit is part of Drake's "Citizens Arise!" series, a multi-year initiative that aims to inspire students, teachers and citizens to responsible citizenship. Its goal is to encourage all to learn about the history, development and uses of the democratic process as an instrument for managing the challenges of the 21st century.
Believing that an "ample and well chosen Assortment of Books" could serve both intellectual and political purposes, President John Adams (1735-1826) assembled one of the greatest private libraries in early America.
The exhibit is based on the gallery exhibit of the same name mounted by the Boston Public Library in 2006, the first public display of Adams' complete 3,500-book collection. The John Adams Library has been on display at the Boston Public Library since 1894.
Including photo reproductions of many of Adams' books and some of the president's personal effects, "John Adams Unbound" gives viewers an insight into a founding father wrestling with intellectual and political ideas throughout his life.
Adams' career included time as a lawyer, where he defended British soldiers charged in the Boston Massacre. He went on to represent Massachusetts at the Continental Congress, where he served on the committee that drafted the Declaration of Independence. Adams was also elected the second president of the United States.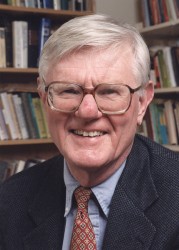 Gordon S. Wood
The next event in the "Citizens Arise!" series will be a talk on Thursday, Nov. 5, by historian and author Gordon S. Wood, the Alva O. Way University Professor Emeritus of History at Brown University.
The presentation will explore Wood's book, "The Purpose of the Past: Reflections on the Uses of History," with a focus on the life of former U.S. President John Adams.
The talk, which is free and open to the public, will begin at 7 p.m. in the Cowles Library Reading Room.
For more information about "Citizens Arise!" and to view a complete list of events, visit citizensarise.drake.edu or contact Claudia Frazer at 515-271-3776 or
claudia.frazer@drake.edu
.