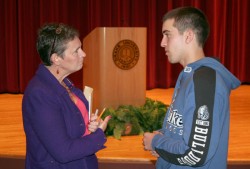 Terri Vaughan talks with Drake student Fred Larson.
A crowd of more than 200 students gathered to hear former Iowa Insurance commissioner and Drake faculty member Terri Vaughan speak about lessons learned from the financial crisis.
Drake sophomore actuarial science major Fred Larson said Friday's presentation was "great" and stayed after the lecture to talk with Vaughan.
"I'm formulating a speech for my rhetoric class and she said she'd help me by referring me to an expert on risk management," said Larson of La Grange, Ill.
Vaughan, who serves as chief executive officer of the National Association of Insurance Commissioners (NAIC), gave a lecture titled, "The Financial Crisis: Lessons Learned and Implications for Regulation."
It was part of Drake's Allstate Risk Management Lecture Series, made possible by a $15,000 gift from The Allstate Foundation to the College of Business and Public Administration.
Vaughan spoke about insurance regulatory reform and management and lessons insurance industry leaders should learn from the events that caused the current recession.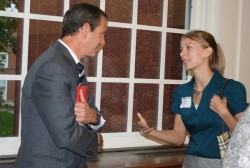 Douglas Reichardt speaks with a Drake student after the panel discussion.
In conjunction with her lecture, more than 50 students gathered for a breakfast panel on leadership. The panel featured the following Des Moines business leaders and Drake alumni:

Robert Fligg, GR'75, president and owner of L&L Insulation Co.

Douglas Reichardt, BN'78, chairman and past president of Holmes Murphy & Associates

James Wallace, BN'77, chairman, president and CEO of GuideOne Insurance

Martha Willits, AS'69, GR'97, president and CEO of the Greater Des Moines Partnership
The four alumni shared with students the qualities that CEOs need to lead an organization. They also discussed their business experiences and the importance of leadership, passion, creativity and integrity.
"You have a choice: to be a follower or a leader," Reichardt said. "Leaders are ordinary people who do extraordinary things. Take this opportunity to do the extraordinary."