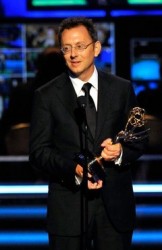 Michael Emerson
Drake University alumnus Michael Emerson won a Primetime Emmy Award for Outstanding Supporting Actor in a Drama Series for his portrayal of Benjamin Linus on the ABC-TV show "Lost."
Critics have hailed Emerson's performance on "Lost" — now in its final season that will begin this winter — and the role has brought him to prominence in Hollywood.
Getting on a hit show is tough for any actor. For Emerson, his journey to stardom was longer than other actors. It's a career that began at Drake.
Appreciation of acting, theater history begins at Drake
Emerson, who graduated from Drake with a theater arts degree in 1976, was born in Cedar Rapids and grew up in Toledo, Iowa. His father was an insurance salesman and his mother worked at the State Historical Society library in Des Moines.
He describes himself as a "lost adolescent" who began to find himself in speech and debate activities, which eventually led him to acting in high school plays.
A successful student, Emerson was offered an academic scholarship by Drake and was attracted to the university by the reputation of the theater department.
While the program did not teach a specific method of acting, Emerson says it gave him a good foundation of skills and knowledge, especially an understanding of theater history.
"Any curious artist wants to know about the history of their craft," Emerson said. "Every time I act, I think about the theater of the Greeks and Romans, which I learned at Drake. I'm proud to be connected to the history of the theater."
At Drake, Emerson was known as a character actor.
"I was a scrawny guy with spectacles and a funny voice, so I got cast as a lot of old men," Emerson adds. "At the time, I'm sure I was frustrated by it, but it was the best training for me."
Emerson says he also appreciated the structure of the Drake theater program, which required students to help in all phases of producing a show, from hanging lights and building sets to directing.
"Theater is about collaboration, and you're a better collaborator if you understand all the other responsibilities involved in creating a show," Emerson said.
After leaving Drake, Emerson moved to New York City. Unable to get his acting career off the ground, he became a freelance artist, publishing illustrations in magazines. He had minored in art at Drake and took additional art courses at The Parsons School in New York.
He also became involved in a relationship that took him to Florida. When the relationship ended in the early 1990s, Emerson realized he had an opportunity to give acting another chance.
"I had done some community theater in Florida, but never thought I'd given acting a fair shot as a career," Emerson said.
Emerson enrolled in the Master of Fine Arts Professional Actor Training program at the University of Alabama, and returned to New York after graduating. This time, he had more success and landed his first professional acting jobs with roles in plays starring Uma Thurman and Kevin Spacey on and off Broadway.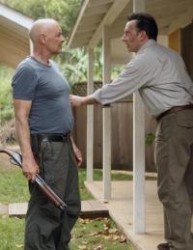 Michael Emerson (Benjamin Linus) has played out a long battle with University of Iowa graduate Terry O'Quinn (John Locke), left.
"Lost" and Emerson's rising career
As he started to get more work on stage, Emerson's career moved to other mediums. In 2001, he played serial killer William Hicks on several episodes of ABC-TV's "The Practice," a performance that earned Emerson his first Emmy Award.
That role also caught the attention of the producers of "Lost," who hired Emerson to play one of the mysterious "Others," a group of island inhabitants who threaten the survivors of the plane crash.
Originally, Emerson was to appear on three episodes, but the producers were so impressed with his performance, they created a larger role for the character on the show. Benjamin Linus was later revealed to be the leader of the Others, and Emerson has been a regular cast member since the show's second season.
Going into the final season of "Lost," Emerson admits to being anxious.
"There are a lot of expectations from the fans," he said. "Can we wrap up the show in a way that meets those expectations?"
Emerson is also looking forward.
"'Lost' has made me much more conspicuous professionally, especially in television and film," Emerson said. "While this show ending will be bittersweet, I'm ready to see which role is next."