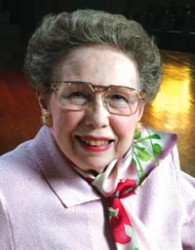 Alice Jordan
Nationally renowned choral composer Alice Jordan, 93, will be honored as Drake University's four choirs present a concert of "Love, Legacy and Laugher" Sunday, Oct. 11.
The free concert will begin at 3 p.m. on the Jordan Stage in Sheslow Auditorium, 2507 University Ave.
The stage was named in honor of Jordan, FA'38, and her late husband, Frank Jordan, who served as dean of Drake's College of Fine Arts.
The choral group of more than 200 voices will perform a tribute to Jordan with her piece, "All Things Are Thine," which won the Composers Press 1959 Publication Award Contest. The evocative piece is set to a text adapted by Jordan's mother, Anna Yost, from Psalms 74, 147 and 69.
"We are pleased to honor Alice Jordan by singing one of her pieces," said Aimee Beckmann-Collier, professor of conducting at Drake, who directs the Drake Choir, Chamber Choir and Drake Community Chorus.
"Choral students rehearse on the Jordan Stage every day, so the opportunity to sing her music and to have her in attendance at the concert will help our students connect with her commitment to Drake and to high-level musicianship."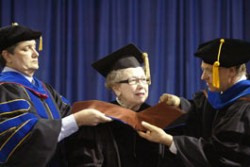 John Burney and Provost Ron Troyer placing a hood on Alice Jordan, who received an honorary Doctor of Fine Arts at commencement in May 2006.
Jordan, longtime composer and arranger of choral and organ music, is listed in Who's Who of American Women and was inducted into the Iowa Women's Hall of Fame in 2002. She also received an honorary Doctor of Fine Arts from Drake in May 2006.

Program to feature music by student, works by Mozart and Copland
In addition, the four choirs will perform "His Mighty Love is Without End," by Melody DeVos, a Drake senior majoring in trumpet from Osceola, Iowa. The piece is based on chapters 20 and 21 of the second book of Chronicles in the Bible.
"I like the idea of pairing the Jordan piece with one written by a current Drake student," Beckmann-Collier said.
"Education is a legacy endeavor and all of us stand on the shoulders of students and faculty who came before us. I hope the entire concert will provide the opportunity for performers and audience to reflect on the legacies we have been fortunate to inherit in so many aspects of our lives."
The Drake Choir will perform additional selections by Mozart, Copland and other contemporary American composers.
The Chamber Choir's portion of the program will focus on English music, in anticipation of the choir's tour of England in January, 2010. Madrigals, folksongs and music by Gerald Finzi also will be featured.
In addition, the Chorale, Drake's select women's chorus conducted by Drake teaching artist Barbara Sletto, will sing works by American and Canadian composers.