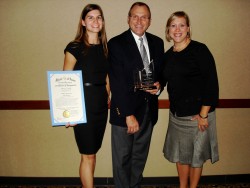 From left: Johanna Determann, Mike Cigelman and Jana Peterson proudly display Drake's award at the banquet.
Drake University has been designated a Gold Well Workplace by the Wellness Councils of America, meaning it ranks among the healthiest places in the country to work.
The University received the award as part of the 19th Annual Conference on Building A Healthier Iowa Workforce on Oct. 1 at the Hy-Vee Conference Center in West Des Moines. The awards were presented at the Iowa Healthy Awards Banquet at the conclusion of the conference.
"We are very honored to be receiving the prestigious designation as a Gold Well Workplace from the Wellness Councils of America," said Drake Wellness Director Jana Peterson.
Mike Cigelman, associate athletic director for facilities and director of recreational services, accepted the award on behalf of the University along with Peterson and Assistant Wellness Director Johanna Determann.
"All three of us," Cigelman said, "would like to thank Drake's senior-level administrators for their vision and support, the campus community for being active and engaged in wellness programming, and the Wellness Council of Iowa for the guidance and resources it provides. We are fortunate to have two dynamic programmers — Jana Peterson and Johanna Determann — who coordinated this wonderful effort."
To be recognized as a Gold Well Workplace, an organization must develop comprehensive programs that produce results and are an integral part of the business. The seven key benchmarks of a successful wellness program are:

Capturing CEO support
Creating cohesive wellness teams
Collecting data to drive health efforts
Carefully crafting an operating plan
Choosing appropriate interventions
Creating a supportive environment
Carefully evaluating outcomes
Drake's Wellness Program applied for the award this past summer and scored in the gold designation for all seven categories.
This is the fourth time Drake has been recognized by the Wellness Councils of America.
In 2006 the University received its first Gold Well Workplace Award. Drake also received a Silver Award in 2003 and a Bronze Award in 2000.