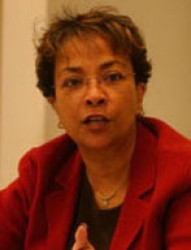 Taunya Lovell Banks
Drake University Law School will host Taunya Lovell Banks, a law scholar and expert on race, gender, class and culture, to give a lecture on Thurgood Marshall on Thursday, Oct. 8.
Banks will present "Thurgood Marshall on the Bench: 'Race Man' and 'Pragmatic Feminist'" at 3 p.m. in room 213 of Cartwright Hall, 2621 Carpenter Ave.
The event, which is part of Drake's Constitutional Law Center's Distinguished Lecture Series, is free and open to the public.
Banks is the Jacob A. France professor of equality jurisprudence and the Francis and Harriet Iglehart research professor of law at the University of Maryland School of Law.
Her research interests span a range of socio-legal topics that explore the interplay of race, gender, class and popular culture in the creation and application of law and social policy.
Banks has published articles in numerous law journals, including the Harvard Civil Rights – Civil Liberties Law Review, UCLA Law Review, New York University Review of Law and Social Change and Michigan Law Review.
Her writing includes critiques of socioeconomic rights court decisions in the United States and South Africa and the exploration of film narratives about the internment of Japanese Americans during World War II. She also focuses on the U.S. Supreme Courts' failure to protect black majorities and pluralities in the southern states.
Banks has served on the executive committee of the Association of American Law Schools, the editorial board of the Journal of Legal Education and the advisory committee of the Law and Society Review. She has also worked as a civil rights attorney.
The Distinguished Lecture Series is organized by the Constitutional Law Center at Drake Law School.
To commemorate the bicentennial of the Constitution in 1987, Congress established a permanent endowment at four universities to encourage the study of the U.S. Constitution. Drake University was one of the schools chosen and established the Constitutional Law Center.
Michael C. Dorf, the Robert S. Stevens professor of law at Cornell Law School, will give the next talk on "Same Sex Marriage, Labels, and Social meaning" on Thursday, March 25, 2010. The discussion will begin at 3 p.m., room 213 in Cartwright Hall.
For more information on the Distinguished Lecture Series, contact the Drake Law School at 515-271-2988.