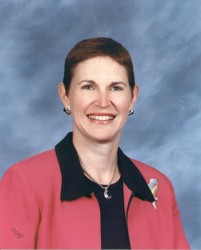 Terri Vaughan
Terri Vaughan, chief executive officer of the National Association of Insurance Commissioners (NAIC) and former Drake University faculty member, will give a talk on lessons learned from the financial crisis on Friday, Oct. 2.
The lecture, titled "The Financial Crisis: Lessons Learned and Implications for Regulation," is free and open to the public and will begin at noon in Sheslow Auditorium in Old Main, 2507 University Ave.
The event is part of Drake's Allstate Risk Management Lecture Series, which is made possible by a $15,000 gift from The Allstate Foundation to the College of Business and Public Administration.
Vaughan will speak about insurance regulatory reform and management and lessons insurance industry leaders should learn from the events that caused the current recession.
"These are historic times for financial regulation," Vaughan said. "What happens today will have an impact on the structure of regulation for decades to come. Insurance regulation will undoubtedly be affected."
In addition to her lecture, Vaughan will also share her expertise with students during a leadership discussion with a panel of Des Moines-area business leaders during her visit to Drake.
Vaughan oversees the operations of NAIC and serves as its primary representative and chief spokesperson in Washington, D.C.
Formed in 1871, the NAIC is a voluntary organization of the chief insurance regulatory officials of the 50 states, the District of Columbia and five U.S. territories. The NAIC serves the needs of consumers and the industry, with an objective of supporting state insurance regulators as they protect consumers and maintain the financial stability of the insurance marketplace.
Prior to joining NAIC, Vaughan was the Robb B. Kelley distinguished professor of insurance and actuarial science at Drake, where her research focused on the regulation and management of financial institutions.
She also was the Iowa insurance commissioner from 1994 to 2004, holding the position longer than anyone in the history of the state. Vaughan served under Democratic and Republican administrations and was an active member of NAIC, serving as the organization's president in 2002.
From 2001 to 2003, Vaughan chaired the NAIC terrorism risk implementation working group and worked with Congress and U.S. Treasury on passage and implementation of the Terrorism Risk Insurance Act of 2002. She is widely credited with being the architect of the NAIC's Interstate Insurance Product Regulation Compact.
She is the co-author of two college textbooks on insurance, "Essentials of Insurance" and "Fundamentals of Risk and Insurance," the 10th edition of which was released in December of 2007.
Vaughan is also the president of the American Risk and Insurance Association, the premier academic association devoted to the study and promotion of knowledge about risk management and insurance.
She holds a bachelor's degree in business administration from the University of Iowa and a doctorate in risk and insurance from the University of Pennsylvania.