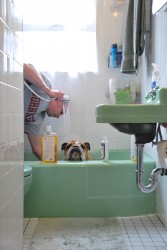 Danny Akright's photo of Porterhouse, last year's winner of Drake's Beautiful Bulldog Contest, was chosen as a finalist for the award.
The Associated Collegiate Press has chosen the student-produced Drake Magazine as a finalist for the prestigious Pacemaker Award for magazine excellence.
"To be among the 10 finalists for this major national award is a real testament to our students' journalism skills and commitment to excellence," said Lori Blachford, the Peggy Fisher and Larry Stelter chair of magazine journalism.
"I know how hard editor-in-chief Tara Richards and her entire staff worked on the magazine. It's great to see that dedication rewarded on a national stage," Blachford added.
The work of current Drake student Danny Akright and recent graduate Brittainey Sieren were also recognized as finalists.
Akright was named a feature photo finalist for his picture of Porterhouse, a bulldog who was receiving a bath. The dog received the bath in preparation for the Beautiful Bulldog contest, which is held as part of the Drake Relays festivities. The photo was featured on the front page of the Times-Delphic Relays issue.
"I'm proud to be a part of the parade of journalism school award nominations that Drake has recently received," said Akright, who is from Overland Park, Kan., and is majoring in news-Internet and American history.
Jill Van Wyke, assistant professor of journalism, said Akright's photo did a good job of telling a story.
"Danny's charming photo is excellent, both artistically and technically," Van Wyke said. "It's also a photo that makes it possible to read a bulldog's mind — and empathize with him."
Drake graduate Brittainey Sieren was named a finalist for her magazine spread for the student-produced 515 magazine.
"Brittainey's spread on vintage clothing was a real challenge. She had many photos and a lot of information to squeeze onto those two pages, but she managed to do it without taking away from the story's visual appeal," said Blachford, the faculty adviser on the magazine.
The Associated Collegiate Press is a division of the National Scholastic Press Association, which provides journalism education services to students, teachers, media advisers and others throughout the United States and in other countries.
For more information about the finalists, visit the
Web site
.