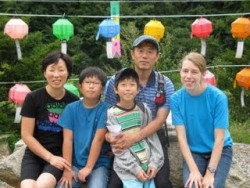 Amy Benes with her host family in South Korea.
Three 2009 Drake University graduates are looking to their Drake education to guide them through a year teaching overseas on Fulbright Grants.
Amy Benes
of Downers Grove, Ill., said her Drake education inspired her to teach in South Korea. There, she lives in Gurye, a town of 20,000 near Mount Jiri, the tallest mountain in the country.
"I chose South Korea to learn about Asian consumers," said Benes, who graduated with bachelor's degrees in marketing and management. "I want to use the knowledge of Korean language and culture in my marketing career."
Benes, who teaches nearly 300 high school sophomores and juniors, said Gurye's farming community reminds her of farm towns in Iowa.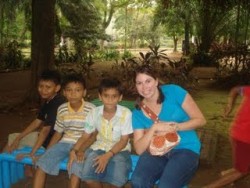 Alexa Horwart gathers with Indonesian kids in Jakarta.
While she was a student at Drake,
Alexa Horwart
spent two years teaching English to Sudanese refugees in Des Moines. She knew she wanted to continue a similar experience after college.
The Fulbright program placed her in Indonesia because of her familiarity with the Islamic faith, thanks to her Sudanese refugee students. She lives in Limboto on Sulawesi, a volcanic island on the equator, where she teaches 10th grade students and started an English Club.
"Indonesians understand that in order to compete in the world economy, they need to know English," said Horwart, who earned bachelor's degrees in international relations and broadcast journalism. "Everyone I meet practices their English when they see me."
Karli-Jo Storm, who spent a year studying abroad in St. Petersburg, Russia, was compelled to return to the region after her Drake experience.
She is now teaching second-year students in the International Relations department at Azerbaijan University of Languages. She lives in Baku, the capital of Azerbaijan, a small country north of Iran on the western side of the Caspian Sea.
"I hope to learn about Azeri language, history and culture," said Storm of Logan, Iowa, who received bachelor's degrees in international relations and politics. "I also hope to project a positive image of the United States upon the minds of the individuals I encounter on a daily basis."