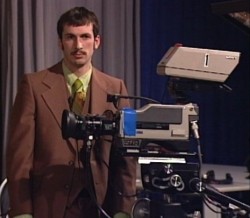 Joe Barlow on the set of "Words with Joe Barlow."
Drake University senior Joe Barlow has been nominated for a regional Emmy Award by the National Academy of Television Arts and Sciences, in the category of On-Camera Talent as a Program Host/Moderator.
Barlow, a broadcast news and journalism major from Lindenhurst, Ill., was nominated within the Upper Midwest Chapter for his work on "Words With Joe Barlow," a news program produced by the Drake Broadcasting System.
Award winners will be announced on Saturday, Sept. 26, at the Emmy Awards gala in Minneapolis.
"It would be crazy to have an Emmy award, since they are probably the most well known award for work in television," Barlow said.
Barlow also submitted work in the Student Achievement category, which is where he presumed any chance at being nominated. However, it came as a pleasant surprise when he was nominated as a program host over numerous professionals in the field.
"I did not expect to be nominated, and when I found out I couldn't believe it. I was so happy, even though I was standing in the rain," he said.
Eligible entries must have been of interest to a regional audience and available for viewing by less than 50 percent of U.S. television homes.
Barlow's entry is a 15-minute compilation of bits from the
show
, in which he prepares to race a Drake Relays competitor, interviews Drake students and faculty about pickup lines, and even persuades KCCI newsman Kevin Cooney to record Barlow's personal voicemail message.
"Words With Joe Barlow" began in spring 2009, airing six episodes over the semester. The show follows the style of a late-night talk show program, with a focus on Des Moines and Iowa news.
Barlow will continue producing the show throughout the fall, with episodes airing Saturdays at 6 p.m. on College Channel 16.