Tayler Chicoine, left, and Margarita Diaz catch a black skipper butterfly to identify it.
Students from Drake University and Southeast Polk High School are finding more than a landfill on Metro Waste Authority's property near Runnells, Iowa.
Singing birds, jumping frogs, flowering plants and buzzing bugs are just some of the wildlife inhabiting the woodland, tall grass prairie, wetlands and creek that make up two-thirds of Metro Waste Authority's land.
The students are surveying the 75-acre environmental protection area and its wildlife and native plant species as part of an internship and three-way agreement among Drake, Southeast Polk and Metro Waste Authority. The project was recently featured on Des Moines' WHO TV in its
Renew Iowa: Environmental Education at the LandFill story
.
"A major goal of this project is to educate Drake and Southeast Polk students and the general public about Metro Waste Authority's environmental conservation efforts," said Drake Associate Professor of Environmental Science Keith Summerville.
"Another goal is to find ways to enhance how environmental science is taught in high school and bring students and teachers to the prairie."
With a $5,000 investment from Metro Waste Authority, Drake senior environmental policy majors Jamie Lane of Hastings, Minn., and Bret Lang from Kanawha, Iowa, began working on animal and plant inventory on the prairie easement in May.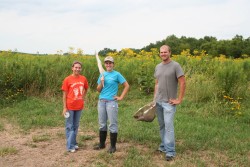 Margarita Diaz, Tayler Chicoine and Bret Lang at the Metro Waste Authority property.
Earlier this summer, Southeast seniors Tayler Chicoine and Margarita Diaz joined the project with Lane, Lang and Summerville, who is overseeing the students' work.
"It's really beneficial for students to be able to be involved with this collaboration because you learn so much about the environment and the community," Diaz said. "It also helps students understand career possibilities in the environmental science field. Plus, it's a great adventure!"
The collaboration stemmed from conversations between Summerville and Metro Waste Authority Executive Director Thomas B. Hadden, who recently announced an additional $5,000 donation to continue the project through the fall semester.
"We thought this would be a great opportunity to bring Southeast Polk and Drake students together to get them involved in the land," said Hadden, who also serves as president of the Southeast Polk School Board.
"I've always had a passion for the environment and if we can find ways to tie it into education and get students excited about it, it's a great deal."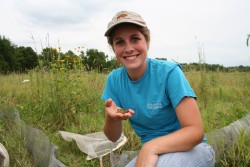 Tayler Chicoine holds a cricket frog that was moving from one wetland to another.
The students split up the research into categories and spend three or four hours each day in the field observing the wildlife and animal tracks. So far, they've found 20 different dragonflies, 25 butterflies, 40 kinds of birds and 15 mammals, including a bobcat and river otter.
"We're looking at what species already exist here and will make suggestions for Metro Waste Authority on how to conserve and improve the land to attract and retain species that can make the land their habitat," Lang said.
"We want to enhance this area and make it more attractive to animals and to humans," said Chicoine of Des Moines. "We want people to be able to learn about and appreciate nature for what it is."
The students are also cataloging native and invasive plants. They have begun looking at erosion stemming from runoff from adjacent farm fields into the wetlands in the prairie.
In October, students will present Metro Waste Authority with their findings and suggestions for future conservation actions.
"Most people seem to agree that we need to protect our environment, but a lot of people don't know all the specific reasons why," Lang said. "This project will help teach people why environmental protection is so important."
They will also unveil plans for a program that will bring Southeast Polk teachers to the prairie on Saturdays to learn about ways to incorporate the land into the curriculum.
"This collaboration is so important," said Chicoine, who will continue working on the project this fall, "because it is eventually going to bring education outdoors."