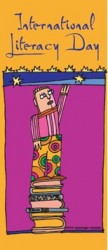 Local residents enrolled at the
Drake University Adult Literacy Center
will share their stories and successes in a Right to Literacy Forum set for 6 p.m. Tuesday, Sept. 8, in Meeting Room One at the Des Moines Central Library, 1000 Grand Ave.
The event, which is free and open to the public, is designed to help celebrate International Literacy Day. Events will be held around the world to raise awareness of the need for all persons to become more literate.
At the Des Moines event, adults who attend the Drake Adult Literacy Center will share first-hand accounts of how they are exercising their right to literacy and how this affects their lives and the central Iowa economy.
The National Assessment of Adult Literacy found in 2003 that 38 percent of U.S. adults lack functional literacy. That means they do not have the literacy skills to be independent with reading and writing tasks.
Based on these findings, approximately 90,000 Polk County adults read at or below the Basic Skill level, said Anne Murr, coordinator of the Drake Adult Literacy Center.
The mission of the Drake Adult Literacy Center is to improve literacy, resulting in enhanced self-esteem, daily living and lifelong learning. Utilizing volunteers and new technologies, the center improves the quality of adults' lives by helping them learn to read, write and comprehend.
For more information about volunteer and learning opportunities at the Drake center, call 515-271-3982 or send an e-mail to anne.murr@drake.edu.
The Right to Literacy Forum is jointly sponsored by the Des Moines Public Library, Drake University Adult Literacy Center, New Readers of Iowa, Iowa Literacy Council, and the Iowa Dept. of Education.
To obtain additional information or to pre-register for the forum, call the Central Library at 515-283-4152 or visit the library's Web site.