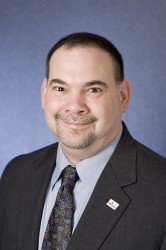 Martin Eisenberg
During the 2009-10 academic year, Drake University will host Martin Eisenberg, associate provost at Truman State University in Missouri, in an American Council on Education (ACE) Fellowship.
Drake President David Maxwell and Provost Michael J. Renner will serve as mentors for Eisenberg during his fellowship. Eisenberg is one of 39 chosen for the national fellowship program.
"It is an honor for Dr. Eisenberg to have been selected for this prestigious fellowship, and a mark of distinction for Drake that he has chosen to spend his fellowship year with us," said Renner, Drake's chief academic officer.
"ACE Fellows are drawn to places where they think they can learn the best practices in American higher education. ACE Fellowships have launched many successful administrative careers at universities and colleges all over the country, and hosting a fellow is yet another sign that Drake's quality is nationally recognized."
Eisenberg and other ACE fellows were nominated by the presidents of their institutions and selected for the national competition. Since the program began 44 years ago, more than 300 of the 1,500 participants have moved on to become provosts, vice presidents or deans.
"Selection as a host institution is a mark of the prestige of the Drake University," said Sharon A. McDade, director of the ACE Fellows Program. "An ACE Fellow has selected this institution for its unique learning opportunities and the quality work that it is doing in educating students."
During his time at Drake, Eisenberg will participate in decision-making and administrative activities and work on specific issues or projects. He also will attend a three-week seminar on higher education organized by ACE as well as its annual meeting.
At Truman State, Eisenberg oversees first-year programming, university assessment efforts and the Registrar's Office. He also serves on the Deans' Council and represents academic affairs on the university's Curriculum Commission, which is responsible for proposing a new core curriculum.
He has served at Truman State since 2001 as associate professor of economics and has held several administrative roles, including dean of new student programs, associate provost for academic affairs, dean of the residential college program and associate vice-president for academic affairs. He also taught at Knox College in Galesburg, Ill., and was registrar and coordinator of academic research there from 1997-2001.
A graduate of Colby College in Waterville, Maine, Eisenberg holds a Ph.D. in economics from University of Pennsylvania in Philadelphia.
More about the fellowship program
Established in 1965, the ACE Fellows program is designed to strengthen institutions and leadership in higher education by identifying and preparing promising senior faculty and administrators for advancement into senior leadership positions in administration.
Founded in 1918, ACE is the major coordinating body for all the nation's higher education institutions, representing more than 1,600 college and university presidents, and more than 200 related associations, nationwide. It seeks to provide leadership and a unifying voice on key higher education issues and influence public policy through advocacy, research, and program initiatives.