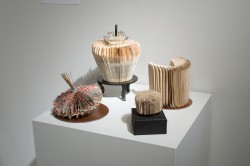 A selection of works from the exhibit.
Drake University's Anderson Gallery will open the fall semester with an exhibition on the wide range of approaches artists take in using books as artistic form and literary expression.
The exhibit, which opened Friday, is titled "The Book in Time and Place: A Selection of Artist Books from The University of Iowa Libraries Special Collections and Drake Universities Cowles Library."
The books were chosen from the University of Iowa and Drake collections to address historical narrative, memoir and time in books as well as the perceptions and representations of place.
Books on display reflect the use of letterpress, various printmaking capabilities, strong illustrative or sculptural qualities and unique bindings.
"The goal of the exhibition is to enhance understanding of 20th century artistic and literary developments within the world of books," said Sarah McCoy, Drake assistant professor of graphic design and art and design.
In conjunction with the exhibit, Peggy Johnston, a Des Moines book artist and binder, will give a bookmaking workshop on Saturday, Sept. 12. The class will be held at Drake from 9 a.m. to 4 p.m. in room 300 of Carnegie Hall, 2511 University Ave.
The first 10 Drake students to sign up will not be required to pay for the class. Reservations will begin on Thursday, Aug. 27, at the Art and Design office. After Aug. 27, the cost for the class is $25 for Drake Students and $60 for non-Drake students. Participants must register to attend. Contact Judy Drury to register at
judy.drury@drake.edu
.