Drake students and faculty, as well as local high school students, participated in DUSCI's 2009 Summer Undergraduate Research Program.
From cancer research to creating recyclable chemicals, Drake students are using science to make positive changes in the world as participants in Drake University's Science Collaborative Institute.

Each student in the Summer Undergraduate Research Program worked with a Drake professor for the last eight weeks, designing and carrying out a research project. The program concluded with the students' final presentations on July 23.
"The summer institute is a wonderful opportunity for students," said Maria Bohorquez, professor of chemistry and director of the institute. "The research project challenges them and the reward is the discovery of new knowledge. These students gained confidence on their abilities and are prepared to face the challenge of graduate school."
A list of Drake students and faculty participating this summer is posted online.
Psychology in pigeons may lead to research for individuals with autism
Senior psychology major Jeremy Goh presented findings from testing in pigeons that could one day lead to research for humans. Through numerous trials, Goh was able to show that pigeons can be taught to recognize relational characteristics — evidence that supports further research for individuals with impaired cognition.
Pigeons naturally focus on absolute features, such as exact measures of size, but in the experiment were taught to make relative comparisons. The birds were shown two circles on a screen and trained to peck the smaller of the circles. Picking the correct circle would reveal the pigeon's ability to compare the sizes, which is relational learning.
Goh designed the project with the idea that studying relational learning in pigeons may lead to future research for individuals who struggle with relative comparisons, such as individuals with autism, Goh said. Future experimentation may lead to the development of strategies to teach relational learning to humans.
Chemistry research goes green to save green
What is best for the environment is not always best on a budget, but senior Ben Haenni's research suggests chemical solvents can be both cost-effective and eco-friendly.
Haenni's project, "Green Chemistry in Ionic Liquids," examined electrically charged liquids, which are not only recyclable but release fewer pollutants into the air than many other solvents. Unfortunately, these solvents can cost $300 or more for a mere five milliliters — only enough for five chemical reactions.
However, Haenni found that using either a sonic-bath or an average microwave can create equally viable ionic liquids for a fraction of the cost. Multiple reactions proved that a liquid charged in a bath or microwave yielded the same results as the purchased ionic liquid. This method would cost $44 for 50 milliliters and carry the same environmental benefit.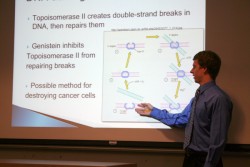 Nathan Verlinden presents his molecular analysis of genistein.
Pharmacy student looks out for negative effects from cancer-fighting soy
In light of the recent increase in consumer popularity of soy, pharmacy student Nathan Verlinden is looking out for any harm that may accompany the plant's health benefits.
Soy consumption has increased with a rise in vegan and vegetarian diets, and in response to studies showing soy to have cancer-fighting properties. Research has linked those benefits to genistein, a substance in soy, and its estrogen-like effects. However, genistein is also suspected of having genotoxicity — causing cell damage.
To test the substance for genotoxicity, Verlinden injected a number of rats with genistein. He then extracted kidney and liver tissues for analysis. While further research is needed to rule out any genotoxic properties in genistein, Verlinden's results showed no detectable effect on the rats' cells.
Computer science program provides insight into black holes
While some students focused on a single science, senior Thomas Marrinan used his expertise in computer science to explore physics and measure velocity in space.
For his study "Visualization of Volumetric Graphics," Marrinan studied Seyfert Galaxies, which are powered by material falling into black holes. By using 3-D graphics to process images of the galaxies, Marrinan was able to successfully chart the flow of energy coming from the black holes.
Marrinan hopes that his program will be used to study many astronomical structures in addition to the Seyfert Galaxies. He has submitted his research for publication in IEEE Computer Graphics and Applications, a highly respected journal, and hopes to make additional presentations at upcoming scholarly conventions.