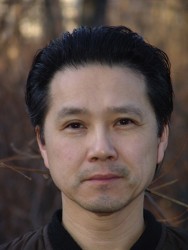 Phillip Chen, Drake University professor of art and design, will showcase a series of prints on an 80-foot wall at Three Shadows Photography Art Centre in Beijing — China's premier venue for contemporary photography.
The exhibition, titled "Origins and Destinations," is the most prominent show of Chen's career to date. It opens Saturday, Aug. 1, and will be displayed for three weeks to Chen's largest audience yet.
The display consists of 24 etchings that use both photography and drawing to address themes including race relations, gender politics and cultural history. As a Chinese-American artist, Chen offers perspectives on his own family history as well as broader intersections of Chinese and Western cultures.
The opportunity arose for Chen to exhibit in Beijing at the recommendation of Wu Hung, a highly influential expert in contemporary Chinese art. Chen was in search of an 80-foot wall on which to experiment with different combinations of his prints when he was offered the use of a gallery at Three Shadows.
In addition to the renown he will gain from the exhibition, Chen has learned valuable lessons about cross-cultural interaction from his experiences in preparing for Beijing.
"There is much I can teach my students about 'getting things done' under the most adverse circumstances, in terms of making art of personal integrity while endeavoring to position it 'out there,'" he said.
Chen first visited Beijing in June 2008 as part of Drake's Chinese Cultural Exchange Program, during which he lectured to students in China about his artwork.
Chen has returned to Beijing to spend the week mounting the display and preparing a catalogue for the exhibition. He will then stay a second week to study traditional architecture in Hangzhou's West Lake and to acquaint himself with art communities and museums in Shanghai.
Chen, who was born and raised in Chicago, holds a Master of Fine Arts degree from The School of the Art Institute of Chicago. He held his first extensive exhibit of grouped prints at the Des Moines Art Center's Downtown Gallery earlier this year — what Chen calls "a dress rehearsal for the Beijing show."
His work has been featured in more than 150 venues worldwide, with regular displays at International Print Center in New York. His work also is held in permanent museum, university and private collections throughout the United States.
Chen has received numerous honors for his artistic talent and work, including the 2005 Tiffany Foundation Award — a grant of $20,000. He has served as an evaluator for the National Endowment for the Arts, College Art Association and The John D. and Catherine T. Mac Arthur Foundation.