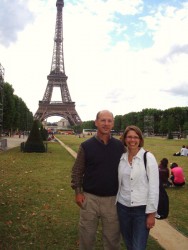 Matt and Laurie Doré visited the Eiffel Tower during their trip to France.
Drake law professors Matt and Laurie Doré recently returned from a three-week research trip to the European Union to work on a project that combines their areas of expertise — corporate law and choice of law.
They toured four European countries and met with more than 12 scholars and lawyers, thanks to an international faculty research grant. The generous grant aims to give faculty members and their families exposure to different places around the world. Their three children also joined them on the trip.
"The trip was an enriching experience for our entire family," said Laurie Doré, the Ellis and Nelle Levitt distinguished professor of law. "We are extremely grateful for the tremendous opportunity provided by the international grant."
"Our children gained invaluable lessons through their exposure to different cultures and lifestyles," she added, "and Matt and I learned much about foreign legal systems from our interviews with English, German, Dutch and French lawyers."
Research project focuses on the "Delaware Effect" in EU countries
The research project focuses on how recent European Court of Justice decisions have made it clear that people in European Union countries are free to organize businesses in any EU country for the purposes of doing business in their home countries.
"Such a practice was previously not permitted under European choice of law principles," said Matt Doré, the Richard M. and Anita Calkins distinguished professor of law.
"Under these new rulings, European Union countries may now compete to attract new business organizations in the same way Delaware and other states have competed in the United States for more than 100 years."
The Dorés, who plan to write a paper focused on their findings, visited with scholars and legal experts from the United Kingdom, the Netherlands, France and Germany, to determine the extent of any "Delaware effect" there thus far.
"We talked to these people about choice of entity and choice of jurisdiction trends in the EU in the wake of recent judicial interpretations of the EU charter," Doré said. "While these decisions were expected to set off a wave of competition among EU countries for new business entities, Laurie and I learned that the actual effect has been much less dramatic than anticipated."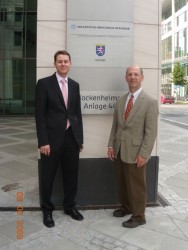 Matt Doré, right, and Drake alumnus Nate MacPherson, left, met in Frankfurt.
Drake connections lead to more collaboration
Many of the Doré's EU contacts were made before their trip, primarily through Drake relationships or connections from the Law School's Summer in France Program.
For example, the Dorés toured the Inns of Court in London with the United Kingdom judge, who is a friend of Associate Dean Russell Lovell. In Germany, they met with a 2007 Drake Law School graduate, Nate MacPherson, who now practices law in Germany.
They also met with one of Law School Dean Allan Vestal's contacts, a Dutch professor.
"I also toured the Frankfurt stock exchange," Matt Doré said, "with the law class of a German law professor who used to teach at Laurie's alma mater — Southern Methodist University School of Law."
The Dorés said they hope their connections in the European Union will continue to grow and lead to further collaboration with scholars and legal experts.
"We both learned a fair amount not only about our research topic — choice of entity and choice of jurisdiction for businesses in the EU — but also about legal education systems and lawyer training in various parts of the EU," Matt Doré added.
"This will be helpful as the Law School continues its efforts to build international connections and opportunities for our students."