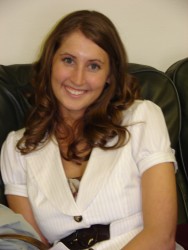 This summer, Paige Pillischafske used skills that she learned in her diabetes education to help a high schooler who had a seizure.
Drake University's diabetes concentration in the Professional Pharmacy Program recently took the spotlight in a July 22 Des Moines Register
story
.
The program, which offers hands-on learning, aims to prepare Drake's future pharmacists to focus on care for patients with diabetes.
Since diabetes is widespread among Americans, the program has gained popularity with 20 percent of pharmacy graduates earning the concentration.
The story also features Drake Associate Professors of Pharmacy Practice June Johnson and Renae Chesnut and Drake student Paige Pillischafske.
Pillischafske recently used her diabetes education to help a high school student who was having a seizure during summer camp at Camp Hertko Hollow in Boone, Iowa.
She is just one of the many Drake students who experience a pharmacy rotation at the camp. Johnson coordinates the students' clinical program as part of the Drake curriculum.