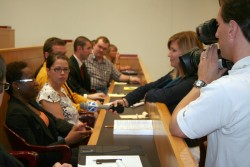 Emily Price with Channel 8 interviews students about their experience with the eyewitness ID experiment.
Although they are trained to be skeptical, a group of Drake law students recently helped cast doubt on the reliability of eyewitness identification in an experiment where they misidentified a thief.
The story, which was featured on Des Moines' KCCI Channel 8, was filmed during Associate Professor Bob Rigg's clinical lab class. He told his students that KCCI was shooting a story on Drake's Legal Clinic.
Rigg appeared to have computer problems as he began his lecture, then he left the room, saying he was going to get some help.
A few minutes later, Mitch Sullivan, 17, who will be a first-year student at Drake this fall, entered the room and looked at the students as he walked out with
Rigg's computer.
The incident lasted less than 30 seconds. Students expressed their shock and notified Rigg that his computer was stolen when he returned. A few students even recognized Sullivan as the son of a Drake employee.
Students were then asked to write down a description of the perpetrator. Rigg received 13 different descriptions with varied height, weight, hair and eye color and attire.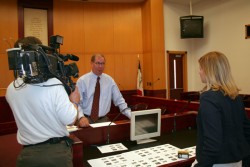 Professor Rigg explains the six-pack photo method he used with the students.
Rigg then asked students to pick the thief out of a six-pack photo lineup — a method often used by police officers.
All but one student identified Sullivan as one of the suspects in the lineup, which contained old photos of past law graduates.
To their surprise, Rigg had not included Mitch Sullivan's picture in the six-pack lineup and they had misidentified the thief — even after some recognized him.
"The opportunity for a correct identification could not have been better, and we still got it wrong," said Craig Sondgeroth, a third-year law student from La Moille, Ill.
"Prof. Rigg had us sitting in the front row facing the perpetrator with an unobstructed view. The perpetrator walked right in front of us and we identified the wrong person, in fact many wrong persons."
Most students said they were 80-90 percent sure they had the right person, but weren't positive that they could swear to their choice in court.
When asked what kind of impact this experiment had, Sondgeroth said:
"If I were a juror, I would have significant doubts about an eyewitness who casually observed a defendant. I have to admit, this level of misidentification by law students was a little embarrassing."
Rigg said people automatically think they have to ID someone because they are given a lineup of six suspects. "It isn't always reliable. Now the students understand how bad eyewitness ID can occur."
According to a July 12 CBS News 60 Minutes story, "Eyewitness: How Accurate Is Visual Memory?" by Lesley Stahl, criminologists are beginning to reexamine cases and DNA tests have helped exonerate more than 230 men in mostly sex crimes and murder cases.
The story noted that: "What they've honed in on is faulty eyewitness testimony: over 75 percent of these innocent men were convicted in part because an eyewitness fingered the wrong person."
"One of the things you have to consider is that the American Judicature Society, in conjunction with numerous prosecuting attorney's offices across the country, have worked to find a more reliable eyewitness identification process," Rigg said.
"Certain offices across the country have changed the way they advise law enforcement to use pre-trial identification based on the fact that there have been a number of cases in which individuals have been misidentified."