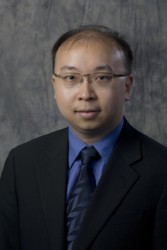 Peter K. Yu
The Intellectual Property Law Center at Drake University Law School continues its wide range of international collaborative activities in China this summer.
On June 12-13, the center co-organized a conference titled, "The Age of Digital Convergence: An East-West Dialogue on Law, Media, and Technology." It was held in Hong Kong with the Journalism and Media Studies Centre (JMSC) at the University of Hong Kong.
This timely, interdisciplinary conference brought together more than 50 Asian and Western scholars to examine how law, media and technology interact with each other in a rapidly changing digital environment.
A longstanding Asian partner of the center, JMSC has worked closely with Drake to develop seminars and position papers on digital copyright reform in Hong Kong.
Drake strengthens partnerships in China
"From the Chinese Cultural Exchange Program to the Center for Global Citizenship, Drake has developed a longstanding and distinguished record of academic exchange and collaboration with Chinese universities," said Peter K. Yu, the Kern family chair in intellectual property law and the founding director of the center.
"China is of great importance to the global legal and business environment. We are very excited to be able to build on this record and increase collaboration with Chinese universities," Yu added.
Following the Hong Kong conference, Yu, a preeminent expert in intellectual property law and policy in China, led a delegation of more than 10 U.S. law professors to visit government officials and academics in Guangzhou, China.
IP Center co-sponsors workshop for scholars
The Drake center held a workshop in conjunction with the South China University of Technology Law School (SCUT) and the Copyright Bureau of Guangzhou Municipality, on June 15 titled "The Copyright Industries and Intellectual Property".
Among the delegates were professors from:
American University
Michigan State University
Northwestern University
Thomas Jefferson University
University of California, Davis
University of Hawaii
University of San Diego
University of South Carolina
University of Toledo
Washington and Lee University
This event, which aimed to foster greater exchange between U.S. academics and government officials, lawyers and academics in China, served as a follow-up to Yu's visit to SCUT in December 2008. It provided the foundation for future collaboration between the Drake IP Law Center and SCUT.
Yu offers solutions to enforcing IP rights
On June 22, Yu returned to Hong Kong to speak at the conference titled "Protecting and Enforcing Your IP rights in China: Practical Solutions from the Experts." The event was organized by the European Chamber of Commerce, the European Union Business Information Programme and the China IPR SME Helpdesk.
At the conference, he discussed the recent World Trade Organization dispute between China and the United States concerning the lack of enforcement of intellectual property rights in China. He also made a presentation on how to ensure effective enforcement of intellectual property rights in China.
Later that week, Yu participated in the celebration of the 10th anniversary of the Intellectual Property Seminar of the Institute of European Studies of Macau. Held in the Macau Cultural Center in Macau, China, the conference features leading intellectual property scholars and practitioners and examines the legacy of landmark intellectual property cases throughout the world.
This month, Yu will deliver a lecture on international intellectual property issues at Xian Jiaotong University in Xian, China. The lecture is part of the summer program at the Franklin Pierce Law School's annual China Intellectual Property Summer Institute in Beijing and Xian. He will also be a featured speaker of the Regional Capacity Building in Intellectual Property Law Scholarship Programme organized by the National University of Singapore Faculty of Law.
Drake IP Law Center enjoys rapid growth
The Drake IP Law Center was founded in fall 2007 to promote global, interdisciplinary understanding of intellectual property law and policy. In addition to the University of Hong Kong and SCUT, Drake Law School has longstanding relationships with Southwest University of Political Science and Law in Chongqing.
The center also has a close working relationship with Zhongnan University of Economics and Law in Wuhan, in which Yu holds the prestigious Wenlan Scholar Chair Professorship. In the past two years, the center hosted visiting scholars from the China University of Geosciences in Wuhan, the Hebei Academy of Agricultural and Forestry Science in Shijiazhuang, and Zhejiang Gong Shang University School of Law in Hangzhou.