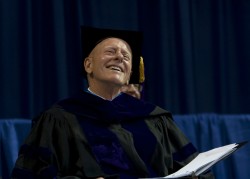 Benjamin B. Ullem
Drake Law School recently honored 143 law graduates with their commencement rites of passage at Drake's 128th Drake Law School Commencement.
Speakers included Drake President David Maxwell and Law School Dean Benjamin B. Ullem, who took a year off from the Drake Board of Trustees to serve as dean for the 2008-09 academic year. He resumed his position on the board on June 1 as he handed the reins to new Law School Dean Allan Vestal.
Drake Law School alumnus and U.S. District Court Judge Mark W. Bennett of the Northern District of Iowa gave the keynote address at the ceremony. The lecture was titled "Your Life's Blueprint: From Pericles to Facebook."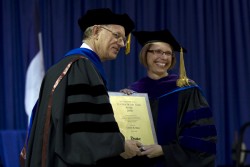 Ron Troyer presents the award to Laurie Doré
During the ceremony, Drake honored Laurie Kratky Doré, with the 2009 Madelyn Levitt Teacher of the Year Award, which recognizes her for excellence in teaching, inspirational leadership and intellectual rigor.
In presenting the award, Provost Ron Troyer said students appreciate Doré's "contagious enthusiasm" for her subject matter and her ability to explain difficult material in a way that is effective and accessible. Troyer noted that those who nominated her for the University's top teaching award describe her as personable, prepared and having a true passion for the law.
There are many inspirational stories among the law graduates who participated in commencement last spring.
Here are a couple of them.
Former NYPD firefighter aims to use his law degree to help Iowans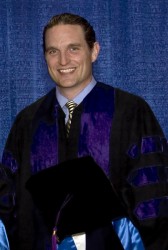 Darren Harkins
Darren Harkins isn't the typical Drake University Law School graduate. The New York City native is 38 and worked as New York City police officer for two years. He then served for 10 years as a FDNY firefighter, was promoted to lieutenant and helped with rescue and recovery efforts during the 9/11 terrorist attack.
"The graduation ceremony is a jumping off point for me, and my professional career as an attorney is starting," said Harkins, who also holds a bachelor's degree in political science and history from the State University of New York, Binghamton.
For him, the Law School Commencement truly was a celebration and the beginning of a new chapter in his life. Read more about Harkins in a
story
on Radio Iowa's Web site.
He graduated in December and already has passed the Iowa Bar Exam, been sworn in as a practicing attorney and established his own law practice in the Des Moines area. New furniture was just delivered last week to his office at 8450 Hickman Road in Clive.
Harkins came to live in Iowa in 2006, moving here with his wife Kaylene from Nevada, Iowa. The two met when Harkins visited the state for the annual RAGBRAI bike tour in 1999. She moved to New York City in 2000 and they got married in 2003.
Harkins said he always wanted to go to law school and knew Drake was a good fit for him because of its size and reputation for its faculty-student ratio that lends itself to close relationships.
"My whole life, I have chosen to work in public service," said Harkins, who also worked at the Legal Clinic through Drake's clinical program. There, he helped people with various challenges and that experience inspired him to focus helping people through civil practice.
Although he won't be battling fires and carrying people to safety, Harkins said he knows he can count on his new career to help him continue to find "fulfillment in helping people."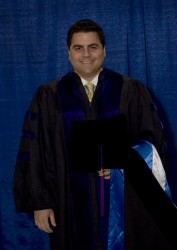 Emiliano Lerda
Law student finds famous bridges led him to Drake diploma
Drake law graduate Emiliano Lerda needs no more proof that following your heart can lead to success. Inspired by Clint Eastwood's film "The Bridges of Madison County," Lerda first traveled from his hometown in Cordoba, Argentina, to Iowa because of his dedication to a high school sweetheart.
Lerda, 28, who graduated in December, has spent nearly 10 years away from his hometown of Cordoba, first coming to Iowa in October 1999 because of a personal connection to the movie's love story.
"I wanted to do something important for someone else that said how much that person meant to me," Lerda said, "but I used learning English as an excuse to visit Iowa because my parents would not have paid for me to go see bridges."
Lerda made his way to Madison County while enrolled in a three-month English course at the University of Northern Iowa (UNI). He intended to return to Argentina in December 1999, but changed his plan after he fell in love with the warm and welcoming Iowa community.
Lerda graduated from UNI with a bachelor's degree in communications in 2004, which later led him to Drake Law School in 2006.
"It doesn't make any sense, but this crazy thing changed my life in a million ways because I followed my heart," Lerda said.
Now Lerda, who was granted U.S. citizenship about a month ago, is pursuing a Master's of Law in agricultural law at the University of Arkansas, including a research assistantship.
However, he is keeping his ties to Iowa by serving a three-year term with both the Iowa Commission on Volunteer Service and the Generation Iowa Commission. He also maintains permanent residence in Iowa and will return full-time after he graduates from the University of Arkansas.
According to Lerda, there are many similarities between Cordoba and Iowa — both are small towns in rural areas with friendly people. However, the agricultural lifestyle of the Iowa community does not make up for the challenge of being away from his family.
"It doesn't get any easier to be away from family and friends. Time passes, people get older and I wonder how many times I will see them again," Lerda said.
He has visited Cordoba at least once a year since he moved in 1999. His parents, Victor and Adriana, also traveled to Iowa to attend his wedding and graduation in 2004 and plan to visit again for his University of Arkansas graduation ceremony in May 2010.