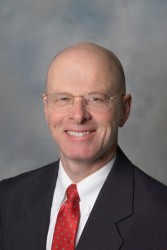 David McCord
David McCord, a Drake University professor of law, will receive a 2009 Governor's Volunteer Award for his work with refugees.
The award, which honors outstanding volunteer service in Iowa communities, will be presented at a ceremony on Monday, July 27, at 2 p.m. in the Southeast Polk High School auditorium, 8325 N.E. University Ave., Pleasant Hill.
Michelle Raymer, Lutheran Services in Iowa community research supervisor, nominated McCord for the award in recognition of his efforts with LSI's Refugee Cooperative Services. LSI and Catholic Charities' Refugee Cooperative Services help refugees who come to Iowa become self-sufficient and independent. One of their programs, Circle of Friends, matches American volunteers with refugee families to provide them assistance and advice as they begin their new lives.
McCord was a member of Circle of Friends and assisted two Iraqi families. He also taught a GED pre-prep course for LSI clients who planned to enroll in a GED preparation course at Des Moines Area Community College.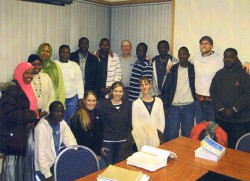 David McCord, center, gathers with students in his GED pre-prep class.
"David graciously offered to teach a pre-preparatory class, giving students the opportunity to learn the basics they would need to succeed in DMACC's program," said Raymer. "He also has been a great source of support to the refugee families he has befriended. David is a tremendous asset to our program and we are grateful for his support."
McCord's efforts to help refugees are an extension of his work with the Lutheran Church of Hope's satellite CityBranch congregation. He is the team leader with the CityBranch Missions Team, which partners church members with area groups and individuals to provide support and friendship for those in need.
Speaking of Circle of Friends, McCord said, "Sometimes it's just socializing. But we also might help get someone to an appointment, assist them with contractual issues or just about anything that comes up."
The GED pre-prep course, which McCord taught last fall and winter, focused on English as a second language.
"The GED prep course is largely about language skills, but the DMACC prep course can be pretty fast-paced," said McCord. "It can be tricky from an English language standpoint and if your English skills aren't at a high enough level, you aren't going to keep up."
McCord said the course was well received by students, who were especially pleased that the term "GED" was in the course title.
"It made them feel like they were making progress, though many still have progress left to go before they can pursue their GED," said McCord. "The GED can be hard, especially for non-native English speakers, because much of the language is subtle."
McCord has been involved in refugee and immigration issues for many years. He serves on the Midwest Legal Immigration Project, which provides legal services to immigrants. He also taught a course to prepare immigrants who planned to take the U.S. citizenship test.
McCord is still working with an Iraqi family, and this fall he plans to teach another pre-prep GED course focusing on American history and government.