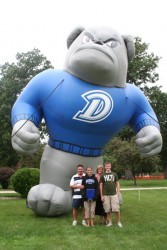 Drake's inflatable Spike mascot offers a fun photo opportunity for families visiting campus.
MEDIA CONTACT: Lisa Lacher, 515-271-3119, lisa.lacher@drake.edu
Drake University invites prospective students and their families to
visit campus and learn more about the University and the college search
process during the 11th annual Iowa Private College Week, which ends today.
During the first four days of IPCW, Drake hosted a total of 488 prospective students and their families. With 150 prospective students and their families scheduled to visit today, total attendance for the week is expected to exceed 600. Last year, Drake hosted a total of 587 prospective students during IPCW.
"We've been receiving lots of positive comments from families about their campus visits this week," said Deneen Dygert, associate director of admission. "We appreciate the many contributions that faculty, staff and current students are making to ensure the success of Iowa Private College Week at Drake."



Tours and information sessions are held twice a day at each of
the participating private colleges and universities — beginning at 9
a.m. and 1:30 p.m. This allows families to conveniently visit two
colleges in one day, or several during the week.
If a student visits three or more colleges and collects a passport
stamp from each location, he or she will be eligible for a drawing for
one of 56 bookstore vouchers worth $500 each.
In addition, each participating college and university will award
two $500 bookstore vouchers to students who visit during IPCW, collect
the required three or more passport stamps, and then later apply, are
accepted and enroll at the school.
To schedule a Drake visit during IPCW, register online or call 1-800-443-7253, ext. 3181.
Drake's sessions will begin in Old Main, 2507 University Ave., and will feature:

Academic meetings with faculty
An overview of Drake's application process and financial aid
A panel discussion with current students
A campus tour
A more detailed agenda and campus map are available online.
Many businesses in the Drake Neighborhood are offering discounts for IPCW participants. View the complete list. A list of places to go and what to see in Des Moines also is available online.