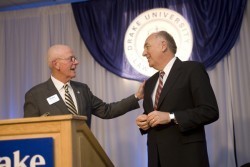 Former Law School Dean Ben Ullem, left, with Stephen Rapp at the Supreme Court Celebration in March
Stephen Rapp, a Drake law graduate and prosecutor of the United Nations Special Court for Sierra Leone, has been nominated for a key U.S. State Department post by President Barack Obama.
Rapp has been nominated for ambassador at large for war crimes issues. The ambassador heads the Office of War Crimes Issues, directly advises Secretary of State Hillary Clinton and formulates U.S. policy responses to atrocities committed in areas of conflict and elsewhere throughout the world.
In announcing the nomination of Rapp and several others this week, Obama said: "I am confident that these skilled and dedicated individuals will diligently work to serve the American people, keeping our country safe at home and abroad and firmly placing us back on a path to prosperity. I look forward to working with them in the future."
In March, Rapp was the keynote speaker at Drake Law School's 72nd annual Supreme Court celebration. He also received an Alumni of the Year Award at the celebration. In his keynote address, "But You Cannot Bring Them Back: Reflections on Justice for Victims of the Greatest Crimes," Rapp discussed his experiences prosecuting defendants charged with war crimes and crimes against humanity.
Obama's nomination of Rapp drew praise from both of Iowa's U.S. Senators — Republican Charles Grassley and Democrat Tom Harkin — at Rapp's confirmation hearing on July 22.
Rapp has "borne witness to some of the heinous mass crimes of our times," Harkin said at the hearing.
Grassley noted at the hearing that Rapp is the "ideal candidate" for the job and has earned the respect of people around the world.
Rapp has served as prosecutor of the Special Court for Sierra Leone since January 2007, leading the prosecutions of former Liberian President Charles Taylor and other persons alleged to bear the greatest responsibility for the atrocities committed during the civil war in Sierra Leone.
A verdict in Taylor's trial is expected next year. The Special Court is an independent tribunal established jointly by the United Nations and Sierra Leone.
From 2001 to 2007, Rapp served as senior trial attorney and chief of prosecutions at the International Criminal Tribunal for Rwanda. He personally headed the trial team that achieved convictions of the principals of RTLM radio and Kangura newspaper — the first in history for leaders of the mass media for the crime of incitement to commit genocide.
Previously, he was U.S. attorney for the northern district of Iowa from 1993 to 2001. Prior to his tenure as U.S. attorney, he had worked as an attorney in private practice and had served as staff director of the U.S. Senate Judiciary Subcommittee on Juvenile Delinquency and as an elected member of the Iowa Legislature.
He received his J.D. degree from Drake University in 1974 and his B.A. from Harvard College.