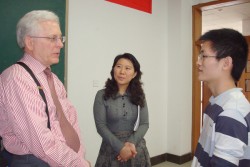 Russ Lovell interacts with Professor Yuanling Yu and a student from Chongqing Jiaotong University.
During his month-long inaugural trip to China, Associate Dean Russ Lovell soaked up as much Chinese culture as the Chinese students, professors and administrators did of Drake Law School and American law and culture.
Lovell gave presentations and was a distinguished guest at three universities:
Chongqing Jiaotong University
Southwest University of Political Science and Law
Chongqing University
Chongqing Jiaotong paid for Lovell's travel expenses and invited him to China as part of its foreign experts grant, which brought Drake Assistant Professor of Law Luke Meier to the school last summer.
At each university, Lovell presented six public lectures and interacted with students, faculty members and administrators. He discussed Drake's existing exchange programs, the new LL.M programs, possible future exchange opportunities and the Law School's innovative experiential education programs, including the Trial Practicum and clinical programs.
Lovell's lectures compared equal employment law in America and China and judicial remedies in environmental law cases, among other topics.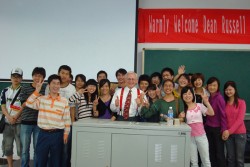 Spirited students from Chongqing Jiaotong gather with Russ Lovell for a photo.
At one of his presentations at Chongqing Jiaotong University titled, "A Comparative Study on the Employment Promotion Laws of America and China," Lovell received much praise in one of the school's news articles.
"Over 120 students from the School of Finance attended the meeting with raptured attention," the story reported.
The full Jiaotong News article has been translated and is posted on the Drake Law Web page.
At Southwest, Lovell's presentations were also very well received.
"They originally scheduled me for only one lecture at Southwest," Lovell said, "but after discussing Drake's clinical and experiential programs with faculty and the international program deans at Southwest, the response was so enthusiastic about the First-year Trial Practicum, they immediately set up another lecture with Southwest's clinical faculty members."
Lovell said he hopes his visit will lead to more student and faculty exchange programs for Drake and the Chinese institutions, especially Southwest University of Political Science & Law and Chongqing Jiaotong.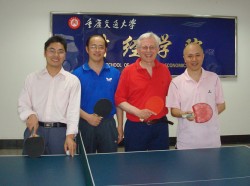 Professor Lovell played pingpong with several faculty members and Dean Huang (right) during his time at Jiaotong.
The upcoming 2009-2010 academic year will be the third in which law students from Southwest have attended classes at Drake Law School.
A well-rounded experience 
Lovell embraced Chinese culture by playing ping-pong, singing karaoke (Elvis' "Hound Dog" and "Jailhouse Rock") and using chopsticks on a daily basis. He also shared American culture by teaching students how to shoot a basketball.
"We received a very warm welcome," said Lovell, who was greeted by a large banner at Chongqing Jiaotony University's main entrance as he arrived and similar banners in each of the classrooms in which he lectured.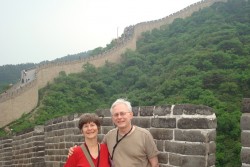 Russ and Linda Lovell toured the Great Wall of China.
Before his time at the universities, Lovell spent the first leg of his China visit touring with his wife, Linda.
The two went on an American tour, in which they saw Beijing, Shanghai, Xi'an, the Yangtze River and the Three Gorges Dam on a four-day river cruise, the Great Wall and other sites.
He commented on the many construction projects he observed in Chongqing, including an array of skyscrapers and clusters of new 35-story apartment buildings, a light rail system and the longest suspension bridge in the world.
"China," he concluded, "is a very impressive economic powerhouse."