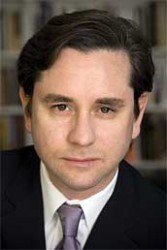 Gordon Goldstein, international affairs scholar and author of a recent book about the Vietnam War, will speak at two events in Des Moines on Friday, Aug. 7.
Both talks, which are free and open to the public, are co-sponsored by the Drake University Center for Global Citizenship.
Goldstein will speak on "Lessons in Leadership from J.F.K. and L.B.J. for America's New Commander-in-Chief" at 7:30 p.m. St. Catherine's of Sienna Catholic Church, 1150 28th St.
He gave a speech earlier in the day at the Des Moines Central Public Library, where he discussed "Cold Warriors: Kennedy and Khrushchev, the Relationship that Defined a Generation."
Goldstein has served as an international security adviser to the Strategic Planning Unit of the Executive Office of the United Nations Secretary-General and as a Wayland Fellow and guest lecturer at the Watson Institute for International Studies at Brown University.
His articles have appeared in The New York Times, Newsweek, and The Washington Post. He is a member of the Council on Foreign Relations.


Goldstein's recent book, "Lessons in Disaster: McGeorge Bundy and the Path to War in Vietnam," examined the presidential mindset during one of the most critical foreign policy decisions in U.S. history.


For more information, contact the Drake University Center for Global Citizenship at 515-271-3843.