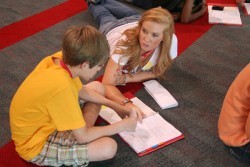 SuperCamp has graduated more than 48,000 students worldwide in 26 years.
MEDIA CONTACT: Tory Olson, 515-271-1834, tory.olson@drake.edu
This July, Drake University will welcome back two
residential summer programs for middle and high school students operated by
SuperCamp — an educational leader in learning and life skills.
SuperCamp made its debut at Drake last summer, reporting an
outstanding success with 80 high school and 36 middle school students in
residence. Other host sites around the nation are Stanford University, Cornell
University, Wake Forest, University, University of Washington, Colorado College
and California State – San Marcos.
SuperCamp will hold the 10-day junior and senior programs concurrently
on the Drake campus from July 12-21.
Students at SuperCamp engage in experiential exercises,
dynamic mental and physical challenges, and team problem solving. Studies of
SuperCamp graduates show positive results in the areas of increased grades,
improved student motivation and higher levels of self-confidence and
self-esteem.
High school students in the Senior Forum will focus on three
main academic rotations: reading, writing and SAT/ACT preparation.
Middle school students in the Junior Forum also participate
in academic rotations, as well as interactive group activities, which include
non-verbal communication, smart stations and state management.
SuperCamp was co-founded in 1982 by Bobbi DePorter,
president of Quantum Learning Network. SuperCamp's Quantum Learning educational
methods also are used in schools nationwide by teachers trained in this
methodology.
SuperCamp has graduated more than 48,000 students worldwide
in 26 years. Based on accelerated learning methods, SuperCamp prepares students
for success with valuable learning and life skills that they apply at school
and in their personal lives.
For more information about SuperCamp at Drake,
visit the Web site or call 800-285-3276.