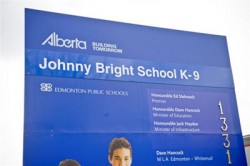 Edmonton Public Schools in Alberta, Canada, recently named a new K-9 school to honor the memory of Johnny Bright, AS'52, who played football for Drake in the 1950s.
Bright is well known for his participation in the October 20, 1951, Drake University vs. Oklahoma A&M football game at Oklahoma. He was the first African-American player to play at Lewis Field, and, at the time, was a pre-season Heisman Trophy candidate.
During the first seven minutes of the game, he was knocked unconscious three times and had his jaw broken by Oklahoma A&M's defensive tackle, Wilbanks Smith. The racially motivated event became known as the "Johnny Bright Incident."
Des Moines Register cameramen caught the series of assaults in a photographic sequence that made the cover of Life Magazine. The incident also led to changes in NCAA illegal blocking rules and mandated the use of more protective helmets with faceguards.
After his Drake education, Bright joined the Canadian Football League as a fullback and linebacker before retiring from professional football in 1964. He was inducted into the Canadian Football Hall of Fame in 1970.
Bright used his bachelor's degree in education from Drake to work as a teacher, coach and school administrator in Edmonton Public Schools during and after his football career, and until his death on Dec. 14, 1983.