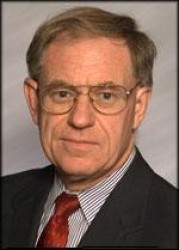 Ronald Troyer
Drake University recently announced a new faculty research fellowship to recognize Ronald Troyer, the University's chief academic officer for the last nine years and longtime professor of sociology.
The Ronald Troyer Research Fellowship Endowment Fund is sponsored by the Drake University Board of Trustees. Read the board's resolution favoring the fund online.
"In creating this fellowship, the trustees want to recognize Ron Troyer's unwavering commitment to the support of faculty research and development at the highest level," said new Board of Trustees Chair Don Fletcher, who made the announcement last week.
"He has been a great partner with the Board of Trustees; and I can think of no better way to recognize his contributions than to create this research fellowship endowment."
A Drake faculty member who is selected for the fellowship will receive a stipend of $5,000 for one year in support of his or her research. The faculty member may also use the funds for a variety of research-related purposes, including support of research assistants, equipment, travel and materials.
The fellowship will be awarded annually through a competitive application process. After the initial year (2009-2010), previous Troyer fellows will be asked to participate in the selection process.
On June 1, Troyer handed over his reins to new Provost Michael J. Renner and then began his new duties as senior counselor for international initiatives.
He plans to continue to work at Drake part-time for two years. His focus will be on the Strategic Plan 2008-2012 and its goals to enhance global learning and expand cultural learning opportunities for students, faculty and staff.
Troyer was named a College of Arts and Sciences Centennial Scholar and Stalnaker Lecturer, both recognitions for research, when he was a faculty member.