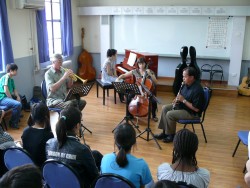 Andrew Classen, Ashley Sidon and Clarence Padilla perform for high schoolers in China.
Three Drake University music faculty members recently spent nearly two weeks giving performances and lectures at schools in Beijing and Shanghai, China.
Andrew Classen, the Fred and Patty Turner professor of jazz studies; Clarence Padilla, professor of clarinet; and Ashley Sidon, assistant professor of cello, taught and performed for high school students at the following institutions from May 23 through June 4:
Beijing International School
International School of Beijing
Shanghai Community International School
The Pudong campus of the Shanghai American School
The objective of the trip was to foster relationships with institutions in China and to spread recognition of the Drake University name and awareness of its acclaimed music program in hopes of recruiting new students.
"We enjoyed conversing with and sharing our passion for music with students from the many nationalities that these types of international schools represent," said Sidon, who formerly taught at the Shanghai Conservatory of Music.
The trio also had been scheduled to perform in Tianjin, but the visit was canceled due to Chinese concerns about the H1N1 virus.
The professors were able to enjoy some sightseeing during their trip as well.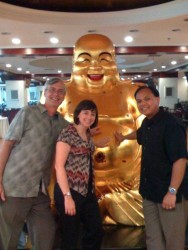 Andrew Classen, Ashley Sidon and Clarence Padilla rub the Buddha's belly for luck at a Beijing restaurant.
"The opportunity to perform and teach in Beijing and Shanghai were invaluable," Padilla said. "However, because of their historical significance, I would have to say that my visits to The Great Wall, The Forbidden City and Tiananmen Square were the most memorable moments of the trip."
Prof. Romain performs at World Saxophone Congress
Romain will present the Asian premiere of Iowa composer Eric McIntyre's "Secondary Impressions for Baritone Saxophone and Piano." He will also take part in performing two new works for jazz saxophone quartet, Will Swindler's "Three Lyriclés," and "Huaihai" by Dan Martinez.
The jazz group, The New Third Stream, includes professors Rick VanMatre and James Bunte from the University of Cincinnati Conservatory-College of Music, and professor Peter Sommer from Colorado State University in Fort Collins, CO.
The World Saxophone Congress is the largest saxophone music festival in the world. The congress presents the most recent scholarship of musical concepts through the creative ideas of artists from around the globe.