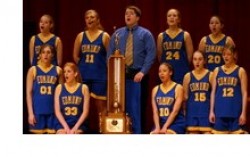 The show celebrates six-on-six girls high school basketball in Iowa – its glorious history, unique rules, phenomenal popularity, colorful personalities, and the controversy that led to the game's demise.
"Six-on-Six: The Musical," which stars two members
of the Drake University community, "scores big points for combining a
history lesson, a legal debate and at least three love stories into a smooth,
funny and ultimately moving story," raves the Des Moines Register in a July
14 review.
Drake University student Alexis Van Vleet and faculty member Sandy Henry drew on their real-world experiences to relate to the characters they play in "Six-on-Six," which opened Saturday, July 11, at Des Moines' Hoyt Sherman Place Theater.



Henry, assistant professor of journalism and mass communication, portrays an attorney seeking to replace Iowa's old-fashioned version of girls high school basketball in Robert John Ford's fictional accounting of the last days of the sport in 1993.
To do this, Henry's character confronts tradition; the bureaucracy that enforces it; and Van Vleet's character, 17-year-old JoLynn Hanrahan, a small-town Iowan whose quest to break the national girls prep scoring record places her, reluctantly, at the mercy of the media.
The Register had high praise for Van Vleet, describing her as "perfectly
credible as the quiet, camera-shy athlete, but her big-as-The-Barn voice fills
the theater during 'Notice Me,' a sweet duet with her high-school crush and 'Just
Seventeen,' her beautiful solo in the second act." The review went on to
say that, "Henry and (co-star Ed McAtee) are well-suited sparring
partners, both as lawyers and spouses."
While Ford, who also directs, advised Van Vleet to think of West Des Moines Olympic medalist Shawn Johnson in shaping her character, the 22-year-old junior music major doesn't have to imagine how it feels to be a teenager in the spotlight.
It was only six years ago that the Urbandale resident reached the final 40 of the "American Idol" talent search out of the 12,000 or so who auditioned. She's made the cut in this year's auditions too, with the next round set for later this summer in Chicago.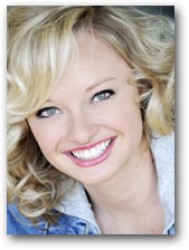 Alexis Van Vleet
A young performer often in the spotlight
The experience gives Van Vleet a full understanding of what her
character JoLynn is going through.
Van Vleet, who started singing
lessons at age 6, got her first taste of performing when her music
teacher, Dale Cunion, would take his students to sing at the Iowa State
Fair.
Since then, Van Vleet has been in the local and regional spotlight.
Her most recent featured roles have included key roles in "Grease,"
"Footloose" and "Urinetown."
But where JoLynn struggles with the twin pressures of satisfying
expectations on the basketball court and of finding herself as she
matures into a young woman, Van Vleet would advise her to live in the
moment.
"I would tell JoLynn to make the best of the opportunity she has,"
she said, "because it might never come again.
"It'll give her the
opportunity to grow as an artist and as a person. Best of all, it will
mean she'll never have to look back on her life and wish she'd done
what she never did."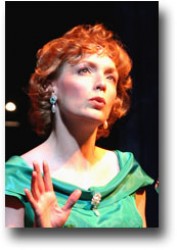 Sandy Henry
Henry views her classroom as a stage
While Van Vleet aims for a career as a recording artist, Henry is
more than content to use her classroom, where she teaches advertising,
as a stage.
"I teach my students that advertising is storytelling, including
the use of humor and music," said Henry.
"Plus, you're trying to
deliver a specific message to a specific audience. Theater helps me
make use of my ability to be creative, which I can then use in my
classes."
Like Van Vleet, Henry can relate to her character, attorney Sarah Singleton.
"In 1993, any woman who was just out of school felt that she was in
that situation. Would she be able to balance a career and a
relationship?" Henry said. "If I were advising my character, I'd tell
her not to be June Cleaver-ish and to do what she feels works best for
her."
Between her teaching and family — she and husband, Jim, have a 7-year-old son, Gannon — Henry has plenty to keep her busy.
"I've reached the point where I don't have to do three or four
shows a year," said the former multimedia director/producer, who's in
her second year of teaching full-time at Drake. "I want to pick and
choose a project that's going to give me an unforgettable experience.
That's why I auditioned for this show — it's very special."
Discount tickets for Drake employees
The musical runs through Sunday, July 19. (No show July 14.) Employees of Drake
University and their guests can receive a $2 per ticket discount to the
show by using promotion code SIXDRA when ordering tickets.
Tickets can be purchased at the Hoyt Sherman Place box office or
through Ticketmaster by phone (800-745-3000) or online at ticketmaster.com.
The discount is available on full-price tickets for any performance. This offer is intended for Drake employees and their guests only.
Pulliam to emcee six-on-six exhibition game
More than twenty notable former players, coaches and officials of
the six-on-six girls basketball era in Iowa will reunite for an
exhibition game to be held in conjunction with the Des Moines premiere
of "Six-on-Six: The Musical."
The game is on Saturday, July 18th, at 12 p.m. in the AIB College
of Business Activity Center, 2280 Bell Ave., in Des Moines. The event
will feature six-on-six memorabilia, personal recollections, door
prizes and entertainment. Dolph Pulliam, Drake University director of
community outreach and development, will emcee.
Tickets for the game are $5 and may be purchased at the door;
children 12 and under will be admitted free. All proceeds benefit
Mentor Iowa. More information about the musical and the exhibition game
is available at the "Six-On-Six: The Musical" Web site.