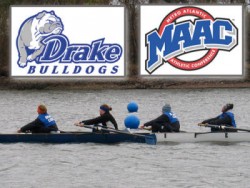 On the heels of the most successful season in history, the Drake women's crew team announced it will join the Metro Atlantic Athletic Conference (MAAC) for the 2010 season. Read more details about the team and its success online.

"It is an honor for Drake University to be accepted for associate membership into the MAAC for the sport of Women's Rowing, said Drake athletic director Sandy Hatfield-Clubb.
"Drake is well aligned with the educational values and the competitive nature of the MAAC schools and our crew athletes are thrilled to have a conference home and to have an opportunity to compete for conference championships."
Drake will keep a regional regular-season schedule and will compete at the 2010 MAAC conference championships, which will be held April 25 at Mercer Lake in West Windsor, N.J.
The Drake women's crew team capped the 2009 campaign with a third-place finish by the Varsity 4 boat at the Dad Vail Regatta in Philadelphia, which is the largest collegiate regatta in the United States with more than 100 colleges and universities from across the country competing.
The Varsity 4 boat, consisting of freshman coxswain Paige Hulsey, senior stroke Beth Hedglin, junior third seat Chelsea Smith, senior second seat Theresa Kuehmichel and senior first seat Ingrid Bard won all five races on the season prior to the Dad Vail, defeating the likes of Dayton, Tulsa and Southern Methodist.
The women's crew teams in the MAAC consist of Loyola, Marist, Fairfield, Iona, Sacred Heart (Conn.) and Manhattan.