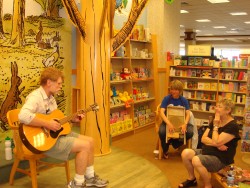 Two Rivers Story Spinners member Mike Zahn and graduate student Marti Maxon perform as a customer looks on.
Graduate students from Drake's School of Education recently launched the first fundraising event for Forever Books for Kids, a new organization providing books to children to take home after visiting a loved one in the Polk County Jail.
The students organized and promoted a book fair featuring members of the Two Rivers Story Spinners at Barnes and Noble in West Des Moines.
Proceeds from the book fair will provide about 100 books that will be placed in the visiting area of the Polk County Jail. The books will be purchased from Barnes & Noble at a discount provided by the company.
Graduate student Marti Maxon, who helped coordinate the event, is pleased with the public's initial response to the program.
"We had a pretty good turnout," she said. "It seems like people were happy to help out by buying books and wanted to make things better for the kids."
Polk County Sheriff Bill McCarthy also recognized and expressed gratitude for the program in letter sent to Celeste Bremer, adjunct professor of education at Drake, who originally conceived of the program.
"I would like to take this opportunity to personally thank you," McCarthy wrote. "We appreciate your time and energy in organizing this important project and your diligence in seeing it through."
Bremer said she came up with the idea for Forever Books for Kids while touring the jail last summer.
"The visiting area seemed so stark," she said. "I thought we could make it more welcoming and humane if visitors and inmates knew their children would have something to do while they are there."
Graduate students from Bremer's Leadership in Complex Organizations class at Drake have helped establish the organization and will continue to contribute to its growth and operations.
"This project," Bremer said, "is an example of Drake's collaborative learning experience."