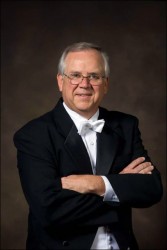 Joseph W. Hermann
Joseph W. Hermann AS'71, GR'78 has accepted the John Philip Sousa/Edwin Franko Goldman Gavel this spring to become the 72nd president of the American Bandmasters Association.

"I am so fortunate to be a member of the ABA," Hermann said. "But to serve in its leadership is humbling, even overpowering."
Hermann was first elected into the ABA in 1996. Eleven years later he was elected vice president.
In the 79-year history of the ABA, fewer than 700 directors have been elected to membership — and election to the ABA presidency is a singular distinction afforded to only the most highly respected and esteemed members.
Although many years have passed since his days at Drake, Hermann has enjoyed a strong connection to the University.
Both his junior and high school band directors were Drake alumni. And as a high school senior, Hermann experienced the University first-hand when the Drake Marching Band performed at one of his school's football games in Park Ridge, Ill.
"I was doomed to attend Drake," Hermann jokes. "What a sound! What a band!"
After the performance, the band toured the school building. That is when Hermann had his first meeting with Don Marcouiller, who served as director of bands at Drake from 1956 to 1987.
"I informed him of my interest and intent. I simply couldn't wait to be in that band," said Hermann. "He helped me with the application and encouraged me to audition."
As a first-year student the following August, he found that Drake's music program pleasantly exceeded his expectations.
"The depth of the musical experiences, the quality of the professional instruction, the personal manner that each and every faculty member in the Department of Music and College of Fine Arts, as it was named at the time, excelled at assisting all of us who were the 'professionals-in-training'," said Hermann.
Additionally, he holds Marcouiller in high esteem for supporting his growth and development as a musician and future band director. While Hermann feels indebted to Marcouiller and the University for the learning opportunities that were afforded to him, he also owes one more important life experience to both.
As a sophomore in 1968, Hermann served as band manager for the Drake bands. One day while running errands, he stopped to talk with Marcouiller at the band offices and met a girl whom he ended up asking out on a date. Later on, he discovered her last name was Marcouiller, and she was Don Marcouiller's daughter.
Their first date took place on a band trip to Green Bay, Wis. Two years later they were married and have remained so for the last 39 years.
"What do I owe to Drake? Simply everything!" Hermann said.
"Drake accepted a wide-eyed student who knew he wanted to be a band director, offered a curriculum that inspired a career, and even provided a wonderful woman that has been a partner for life."