Admission covers Kokomo Kove, a new waterpark with seven water slides and more 100 other water features such as tipping cones, hose jets and water guns.


SATURDAY, AUG. 1


Discounted tickets available for Drake Day at Adventureland
Drake alumni, faculty and staff, along with their families, are
invited to gather at Adventureland for a day of fun on Saturday, Aug.
1.
The Drake Office of Alumni and Parent Programs and Adventureland
are offering a special reduced ticket price of $18.50 per person. The
regular price is $31.
Bulldogs and their families are welcome to gather at a common area
at the park's Country Picnic Grounds, located near the Tornado
rollercoaster. The area will be open for Drake from 10 a.m. to 3 p.m.
The picnic grounds offer a large area for relaxing — with a shelter,
picnic tables and three volleyball courts.
Call 515-271-3147 to make a reservation. Payment will be required
at the time of the reservation, and tickets will be available for pick
up at the Drake booth just outside of the main gate to the park from 10
a.m. to 3 p.m. Aug. 1.
Bulldog Club Golf Outing
Join the Bulldog Club and friends of Drake for a day of golf at Echo Valley Country Club in Norwalk, Iowa.
Registration
and lunch will begin at 11:30 a.m. followed by a shot gun start tee
time at 1 p.m. Cost is $125 per player (includes: 18 holes of golf with
cart, lunch, beverages, registration gift, dinner special program and
hole and door prizes).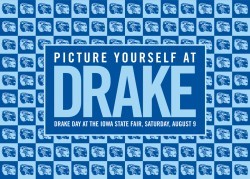 Picture yourself at Drake during the Iowa State Fair 


Alumni
and friends are invited to celebrate Drake Day at the Iowa State Fair
on Saturday, Aug. 15, at the University's tent on Rock Island Avenue at
the fairgrounds in Des Moines.
Drake
will provide free disposable cameras (quantities limited) for visitors
to snap souvenir photos in one of several "virtual" Drake scenes. Also,
meet Bulldog athletes and take home Drake giveaways. 


If you're unable to attend on Aug.
15, be sure to visit the Drake display in the William C. Knapp Varied
Industries Building throughout the fair, which runs from Aug. 13-23.
An Afternoon with Drake in Atlanta
Join
Sally Davis, FA'85, GR'86, Larry Moore and Drake leaders and esteemed
area alumni for an afternoon of food, wine and conversation from 3 to 5 p.m. at 2104 Calverton Lane S.W., Atlanta. RSVPs are
due by Aug. 3 to
events.rsvp@drake.edu
or 1-800-44-DRAKE x4539.
MONDAY, AUG. 24
Annual Drake Athletic
Department Bulldog Corn Feed
The event will begin with the Bulldog Club Annual Meeting at 5:30 p.m., followed by dinner at 6:30 p.m. and the program at 7:15 p.m. in the Drake Knapp Center.
Football coach Chris Creighton, basketball coaches Amy
Stephens and Mark Phelps and soccer coaches Sean Holmes and Lindsey
Horner will preview their respective seasons.
Cost is $25 per person and can be paid either in advance or at the
door. Fans are encouraged to make their reservations by e-mail at
jolene.ostbloom@drake.edu
or by calling 515-271-3647 no later than Aug.
14.
Read about more alumni events
online
.